Zebras struggle to hold strong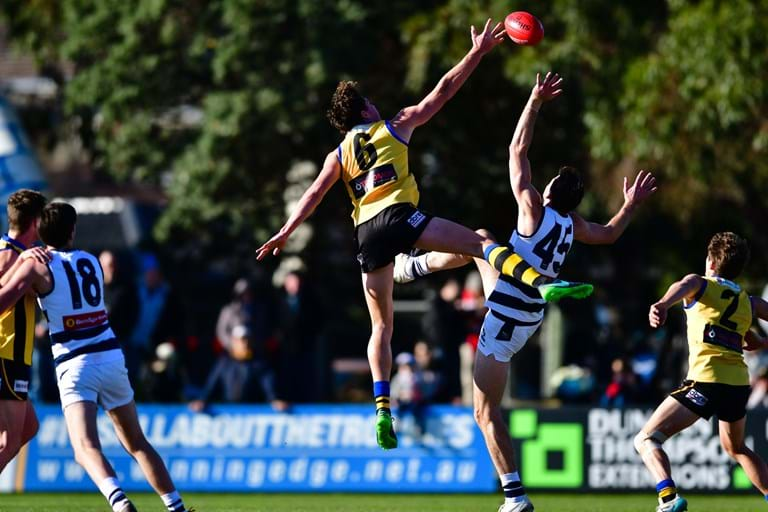 SANDRINGHAM 6.4 6.5 9.8 10.9 (69)
GEELONG 4.0 8.6 12.7 14.13 (97)
GOALS
Answerth 2, Paton 2, Owens, Bailey, Smith, Haidon, Lamb, Connellan.
DISPOSALS
Seccull 26, Answerth 25, Acres 24, Freeman 23, Paton 20.
The Zebras have gone down to Geelong this week, despite a good first quarter, continuing to struggle in the back end of the year. Sandringham worked hard at the beginning of the match, kicking 6 goals and holding a 16-point lead at the first break. But a one point second term began the downfall for the Zebras, as a hard-fought third quarter still wasn't enough to cause an upset.
The first quarter was very much back and forth and the Cats and Zebras had somewhat of a shootout, before the Sandy boys kicked away to hold a decent lead at the break. Kade Answerth kicked two to start them off, as it looked to be a promising start for the boys.
But a disappointing second term, where the Zebras managed just one point to the Cats' four goals, undid all of the good work that the boys had done. Geelong took a 13-point lead into the second half, but the Zebras were not going to give it up that easily.
The third quarter began to look as though it was going to be a blow out, but a goal from small forward Nathan Smith midway through the quarter gave the Zebras some hope. Connellan and Paton followed suit, and before long the margin was back to 13, and there was a better feeling in the air, with a lot more confidence from the boys.
However, that feeling was short lived as Sandringham again struggled to find the goals and Geelong took back the momentum, finishing the match up by 27 points.
Brede Seccull dominated as usual, leading the disposal count for the Zebras with 26, and laying ten tackles helping the boys apply the pressure. Debutant Kai Owens did the Zebra stripes proud in his first game for us, kicking a goal and getting 13 touches, as well as laying five tackles.
Sandringham's Match Report printed by Digital Document Solutions!