VFL/VFLW Fixtures Announced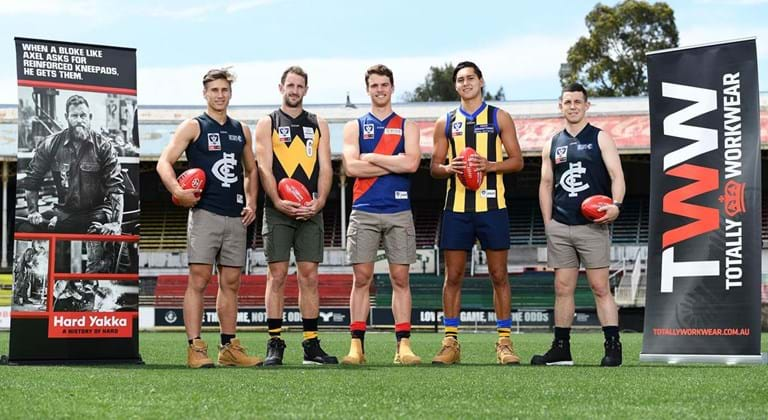 Sandringham Football Club is excited to share the 2019 Hard Yakka/Totally Workwear VFL and Swisse Wellness VFL Women's fixtures.
The VFL fixtures comes with a new name following an AFL Victoria announcement of a new naming rights partner, with Hard Yakka and Totally Workwear (TWW) to join the Victorian Football League (VFL) as its major sponsors for the 2019 season.
The league will be called the Hard Yakka / Totally Workwear VFL – focusing on an iconic Australian brand that is sold at all 13 Totally Workwear stores across Victoria.
Read more about the new name here.
Download the 2019 Hard Yakka / Totally Workwear VFL fixture
Download the 2019 Swiss Wellness VFL Women's fixture
The Sandringham Football Club is extremely pleased with its 2019 fixtures for the Sandringham men's and Southern Saints women's teams.
The VFLW fixture boasts 10 home games for the Southern Saints with at least seven to be played at Trevor Barker Beach Oval and the VFL fixture has 10 home games for Sandringham with the opening round being a Friday night clash under lights against Footscray on Friday 5 April at VU Whitten Oval.
Up to two of the 10 home games for Sandringham are a strong chance to be played at Marvel Stadium as curtain raisers to Sandringham's aligned AFL club in St Kilda, while at least one home game will be played at RSEA Park as part of the club's alignment agreement.
VFL and VFLW blockbuster features include:
A Sandringham home game on Easter Sunday (21 April) against Williamstown that will also see the Southern Saints play as the curtain raiser in a practice match with Williamstown.
Four Sandringham broadcast matches on Channel 7 with three being home games providing Sandringham majority commercial rights (Round 2, 8, 14 & 17).
Six of the 10 home games include Southern Saints as the curtain raiser.
Nine of 14 total games for Southern Saints will be curtain raisers to Sandringham.
3 byes for Sandringham on the weekend of 27/28 April, 8/9 June [also a bye for St Kilda] (Queen's Birthday Weekend) and 10/11 August.
2 byes for Southern Saints on the weekend of 8/9 June [also a bye for St Kilda] (Queen's Birthday Weekend) and 10/11 August.
Date

Time

Time

VFL

VFLW

March

Saturday 2

TBC

Practice Match - North Melbourne v Sandringham (at Arden Street)

Sunday 10

12.30pm

Practice Match - Footscray v Sandringham (at Mars Stadium)

Friday 15

6.30pm

Practice Match - Sandringham v Port Melbourne (at TBBO)

Saturday 23

11.30am

Practice Match - Sandringham v Williamstown (at TBBO)

Saturday 30

12.30pm

Practice Match - Sandringham v Essendon (at TBBO)

April

Friday 5

7.00pm

Round 1 - Footscray v Sandringham

Saturday 13
12.00pm
Practice Match - Southern Saints v Melbourne University (at RSEA Park)

Sunday 14

11.40am

Round 2 - Sandringham v Box Hill (at Marvel Stadium / TBBO) [Blue Ribbon Cup]

Sunday 21

2.10pm

Round 3 - Sandringham v Williamstown (at TBBO) [ANZAC Appeal Round]

12.00pm

Practice Match - Southern Saints v Williamstown (at TBBO)

May

Sunday 5

2.10pm

Round 5 - Sandringham v Frankston (at RSEA Park)

12.00pm

Round 1 - Southern Saints v Collingwood (at RSEA Park)

Sunday 12

2.00pm

Round 6 - Collingwood v Sandringham (beyondblue Round)

Saturday 18

3.30pm

Round 2 - NT Thunder v Southern Saints

Sunday 19

2.10pm

Round 7 - Sandringham v Essendon (at TBBO) [Ladies Day]

Sunday 26

11.40am

Round 8 - Sandringham v Northern Blues (at Marvel Stadium / TBBO)

11.50am

Round 3 - Southern Saints v Carlton (at Skybus Stadium)

June

Sunday 2

12.30pm

Round 9 - Coburg v Sandringham

12.00pm

Round 4 - Casey v Southern Saints

Sunday 16

2.10pm

Round 11 - Sandringham v Werribee (at RSEA Park / TBBO) (SockIt2MND Round)

12.00pm

Round 6 - Southern Saints v Melbourne University (at RSEA Park)

Saturday 22

2.10pm

Round 12 - Box Hill v Sandringham

11.50am

Round 7 - Hawthorn v Southern Saints

Saturday 29

2.10pm

Round 13 - Sandringham v Richmond (at TBBO) [Doggie Day & Love the Game Round]

12.00pm

Round 8 - Southern Saints v Darebin (at TBBO)

July

Saturday 6

11.00am

Round 9 - Southern Saints v Williamstown (at TBBO)

Sunday 7

11.40am

Round 14 - North Melbourne v Sandringham

Saturday 13

3.45pm

Round 15 - Geelong v Sandringham

1.00pm

Round 10 - Geelong v Southern Saints

Sunday 21

12.10pm

Round 16 - Sandringham v Footscray (at TBBO) ['94 & '04 Reunions & Past Players Day]

3.10pm

Round 11 - Southern Saints v Western Bulldogs (at TBBO)

Sunday 28

11.40am

Round 17 - Sandringham v Casey (at TBBO) [Pride Cup]

2.40pm

Round 12 - Southern Saints v Casey (at TBBO)

August

Saturday 3

2.00pm

Round 18 - Essendon v Sandringham (Towards Zero Round)

11.30am

Round 13 - Essendon v Southern Saints

Sunday 18

2.10pm

Round 20 - Sandringham v Port Melbourne (at TBBO) [Tony Scully Cup]

12.00pm

Round 15 - Southern Saints v Hawthorn (at TBBO)

Saturday 24

12.00pm

12.00pm

Round 16 - Southern Saints v Richmond (at TBBO)

Sunday 25

1.00pm

Round 21 - Northern Blues v Sandringham