Upsetting end for the Zebras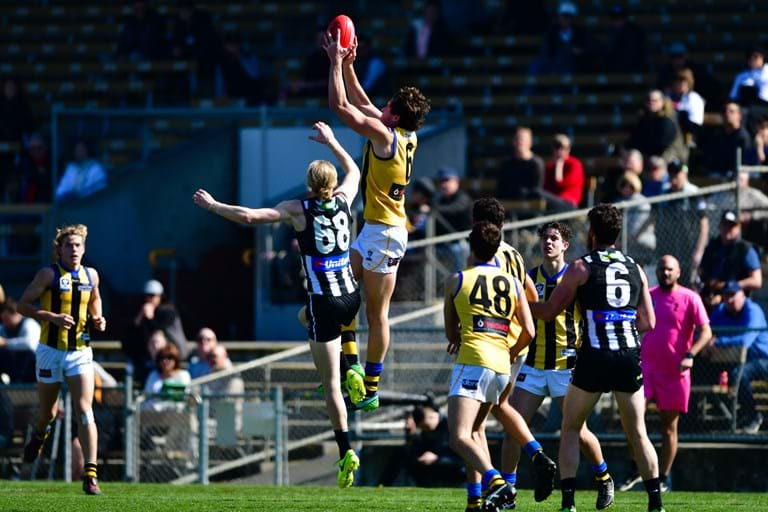 29/08/2018
COLLINGWOOD 2.5 3.8 10.11 18.14 (122)
SANDRINGHAM 1.3 6.6 8.8 8.11 (59)
GOALS
Lamb 4, Seccull, Hille, Haidon, Owens.
DISPOSALS
Dunstan 34, Seccull 29, Coffield 28, Phillips 22, McLean 21.
The Zebras have lost their final match for 2018 against Collingwood, finishing the season with their sixth straight loss. There were glimmers of hope for Sandringham throughout the day, but it was never going to be enough to stop the Magpies who were playing for a top-four position, as the Zebras went down by 63 points.
Collingwood started strong, kicking the first goal of the day before Jackson Hille quickly answered back and let the opposition know that we were not going to go down without a fight, and were going out with a bang. But the Pies got another late in the quarter and took the lead into the first break.
The second quarter was immensely better, as Tom Lamb put us right in it, booting the first three goals of the quarter in the first ten minutes. The Magpies scored just one goal before Kai Owens got us another, and Lamb had his fourth, as we took a 16-point lead into the major break.
The third quarter was high scoring, with both teams making for a high scoring and physical contest. Collingwood scored the first goal of the quarter in just one minute, but Haidon was quick to answer back and we held our lead. Three lead changes in the third, made for an interesting and fiery game, but three goals from Collingwood to finish the quarter saw them take a 15-point lead at the final break.
The Zebras conceded eight goals in the final quarter, while kicking just three behinds. What was a strong fight from the Zebras for most of the match, just really slipped away when it counted and Collingwood got the percentage building lead that they were after going into finals.
Luke Dunstan had 34 touches and took four marks for the Zebras this week, playing with something to prove, while Nick Coffield took a handy seven marks and had 28 touches.
Tom Lamb's four goals in the second quarter were huge in building momentum and giving the Zebras a jump going into half time, and with just 17 touches was hugely influential. Brede Seccull played as strong a game as he has all year, with 29 touches and 6 tackles to his name.
Although it wasn't the result we hoped for, the Zebras can be proud of the way they played their final game out until the very end.
Sandringham's Match Report printed by Digital Document Solutions!