Scoreless final term ends the Zebras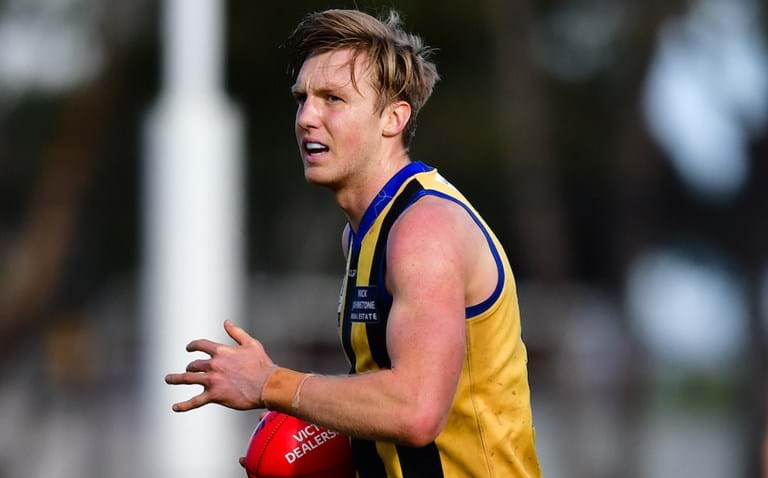 15/08/2018
CASEY 0.3 4.8 7.12 10.15 (75)
SANDRINGHAM 4.1 5.5 8.6 8.6 (54)
GOALS
Connellan 3, Haidon 2, Clavarino, Weller, Langlands.
DISPOSALS
Dunstan 32, Minchington 26, Seccull 23, Weller 23, Phillips 22, Goddard 22.
The Zebras suffered a heart-breaking loss this week, after a scoreless final quarter was their undoing, despite leading all day. Sandringham started strong, and held a lead at every break but lost it where it really counted, after keeping the Demons scoreless in the first quarter.
Maverick Weller opened the scoring for the Zebras in the second minute and they started out looking really strong from the first bounce. The goals just kept coming from our boys in the first term, as Oscar Clavarino, Doulton Langlands and Ray Connellan also found the big sticks. At the end of the first quarter, the Zebras held a very handy 22-point lead after coming out strong.
But Casey had a much stronger second quarter, kicking consecutive goals on multiple occasions, while we were only able to get the one, as Jono Haidon managed to convert. At the major break, we were lucky to hold a three-point lead and would have to really turn it on in the second half.
The boys showed plenty of might at the beginning of the third, as Connellan and Haidon started off the quarter with quick goals each, before Casey answered back quickly. The Zebras were looking strong, making the most of every opportunity and doing their best to force errors from the opposition.
However, the Demons were able to find the big sticks when it counted, and at the final break, managed to level the scores. This was our undoing, when in the final quarter we just couldn't get the ball into our forward 50 and didn't score. Casey capitalised on that and scored 3 goals, which was plenty to get the win.
At the end of the day, it was a stellar effort by the Zebras against a side that has lost just two matches for the season and currently sit in top position.

Sandringham's Match Report printed by Digital Document Solutions!