Sandringham vs. Richmond Round 16 Match Preview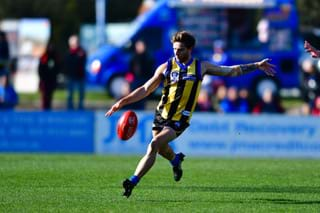 20/07/2018
Sandringham Zebras vs. Richmond Tigers
Trevor Barker Beach Oval, Sandringham
2:00pm Sunday July 22, 2018
Last 5 – Sandringham: 1, Richmond: 4
Last Time They Met: Round 7,2018 – Richmond 14.14 (98) DEF Sandringham 4.9 (33)
This Sunday, the Zebras will host the Tigers in their second last home game for the year before hitting the road for the rest of the season. The boys will be hoping to make up for their poor performance last week against Geelong, and to show Richmond they are a better team than they were in round 7 earlier this year.
Sandringham is proud to be a part of Victorian Responsible Gambling Foundation's annual Love the Game round of footy around the state this week.
Richmond are coming off their fourth straight win, and will be looking to make a statement as they head towards September. Sandringham are not to be written off this week, despite not having won back to back games since round 7 this year.
After a solid debut for the Zebras last week, Kai Owens has again been named the 23rd player. The boys have a bit more to play for this week too, as Zebras veterans Dylan Weickhardt and Jack Noone both celebrate their 50th VFL matches against the Tigers.
if you can't get down to Trevor Barker Beach Oval this week, you can follow the game on VFL Video Stream, VFL Live and Casey Radio. You can also keep updated through our various social media channels.
IN: B Longer, J Sziller, M Gundry, L Verma
| | | | |
| --- | --- | --- | --- |
| B | H Goddard | T Laumets | B White |
| HB | J Hille | D Joyce | J Noone |
| C | M Cook | B Seccull | B Paton |
| HF | B Bailey | T Lamb | R Connellan |
| F | J Haidon | H McLean | N Smith |
| R | B Longer | K Answerth | N Freeman |
| Int | B Acres | O Clavarino | N Coffield |
| | M Gundry | D Langlands | J Sziller |
| | L Verma | D Weickhardt | |
| 23P | K Owens | | |