Sandringham vs. North Melbourne Round 9 Match Preview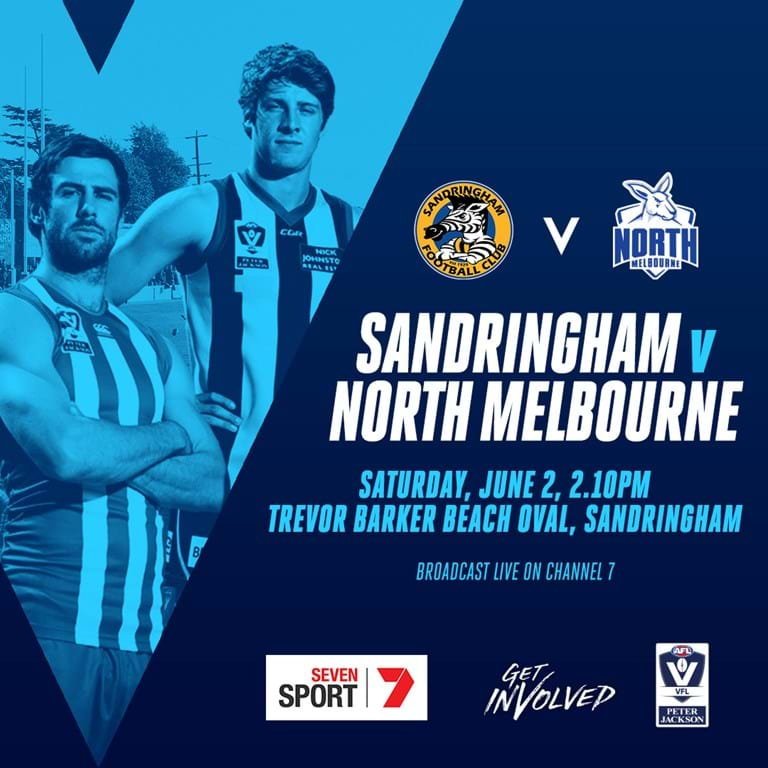 01/06/2018
Peter Jackson VFL Round 9
Sandringham Zebras vs. North Melbourne
Trevor Barker Beach Oval, Sandringham
2.10pm Saturday 2nd June, 2018
Sandringham will look to continue their momentum when they take on North Melbourne at home this Saturday afternoon. There will be plenty going on tomorrow for the Sir Doug Nicholls Indigenous Round before the bounce and also during the game!
This is a must win game for the Zebras, as the boys hope to make their mark on the competition. North Melbourne currently rate themselves as the only team outside of the eight to make finals, but if the Zebras win tomorrow they will be rated as a force come September.
IN: B Bailey, K Parsons, L Batten, J Matera, L Verma, C Carnovale, N Coffield.
OUT: J Noone, R Marshall, D Minchington.
| | | | |
| --- | --- | --- | --- |
| B | 20. C Carnovale | 61. D Joyce | 9. M Cook |
| HB | 40. O Clavarino | 37. H Goddard | 1. D Weickhardt |
| C | 19. L Batten | 70. D Armitage | 51. D Langlands |
| HF | 62. R Connellan | 36. J Battle | 56. N Wright |
| F | 17. J Haidon | 6. H Mclean | 65. N Smith |
| R | 69. B Longer | 2. K Answerth | 5. B Seccull |
| Int | 12. B Bailey | 55. N Coffield | 23. T Lamb |
| | 11. J Matera | 18. K Parsons | 50. B Paton |
| | 15. J Sziller | 3. L Verma | |
| 23P | 24. J Hille | | |