Sandringham and Box Hill to Play for the Blue Ribbon Cup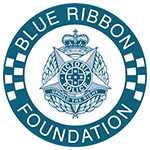 02/05/2018
Victoria Police Officers who have lost their lives in the line of duty will be honoured this Saturday afternoon, when Sandringham takes on Box Hill for the Blue Ribbon Cup at Box Hill City Oval, 2pm.
The Blue Ribbon Cup was established in 1999 between the St Kilda and Hawthorn Football Club's. As a strong connection to the AFL alignments, both VFL clubs also play for their own Blue Ribbon Cup.
The Cup is in memory of Victoria Police members Sergeant Gary Silk, and Senior Constable Rodney Miller who were lost in the line of duty at Moorabbin in August 1998.
As a mark of respect for Victoria Police members who have been lost in the line of duty, players and on-field officials will wear reflective blue and white chequered arm bands. There will also be a minutes silence before the VFL game.
The Blue Ribbon Foundation honours the 159 Victoria Police Officers who have paid the ultimate price while serving their community. The foundation provides awards to encourage training excellence at the Victorian Police Academy. They also work in partnership with Victoria Police, Victoria Police Associations and community organisations to honour those who have lost their lives in the line of duty.
The foundation is actively involved within the community, and they aim to encourage the public in acknowledging the sacrifice of those who have died in the line of duty. They want employees of Victoria Police to know that their work and commitment is valued by a compassionate community.
They are proud to have contributed over $8 million to hospital and community projects since its establishment in 1998.
"We can do nothing to bring them back, but as a grateful community we can stake steps to honour their memory and ensure their sacrifice is acknowledged through a range of projects that benefit the wider community." – Victoria Police Blue Ribbon Foundation
In addition to the cup, the Man of the Match for each side will be awarded the Silk-Miller Medal.
If you would like to make a donation to the Blue Ribbon Foundation, head to http://remember.org.au/donate/.