Match Info v Hawks | KPA Lawyers Round 2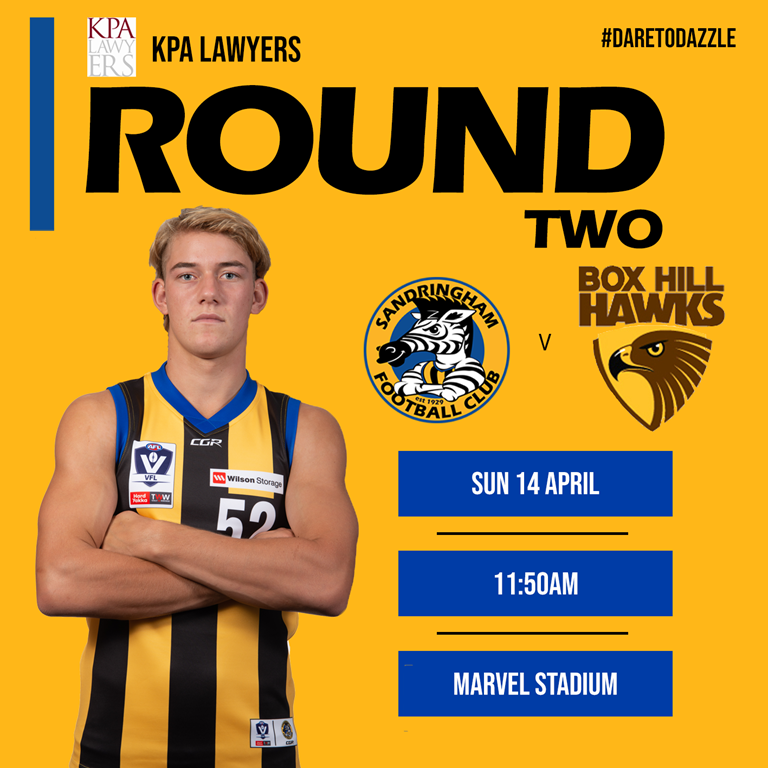 10/04/2019
Who: Sandringham Zebras v Box Hill Hawks.
When: Sunday 14 April, 11:50am.
Where: Marvel Stadium, Docklands.

Its an exciting KPA Lawyers Round 2 clash, with Sandringham taking on Box Hill Hawks at Marvel Stadium. We are the curtain raiser to St Kilda v Hawthorn at 3:20pm, so make sure you clear your Sunday for a footy extravaganza!

Southern Cross Station is a short walk away from Marvel Stadium, but be sure to check if the recent construction works have effected your train line. Alternatively, there are also trams that stop at, or near Marvel Stadium. Underground parking is also available at the ground.

Social Media and Broadcast:
If you can't make it, you can keep up to date with live updates on our Instagram, Twitter, and Facebook pages.
The game will also be broadcast live on Channel 7.

If you haven't secured your ticket yet, jump onto the Ticketmaster website. Tickets will get you access to both Sandringham v Box Hill & St Kilda v Hawthorn. Sandringham membership cards will not gain you access to the ground, so if you have not registered with the club for your ticket, you must purchase a ticket through Ticketmaster.

Ticket booths at Gates 3 & 5 will open at 11am, while Gates 3, 4, 5 and 8 will open from 11.30am.

Make sure you're there and help get our season rolling against the Hawks. GO ZEBS!