Match Info v Bulldogs | Round 1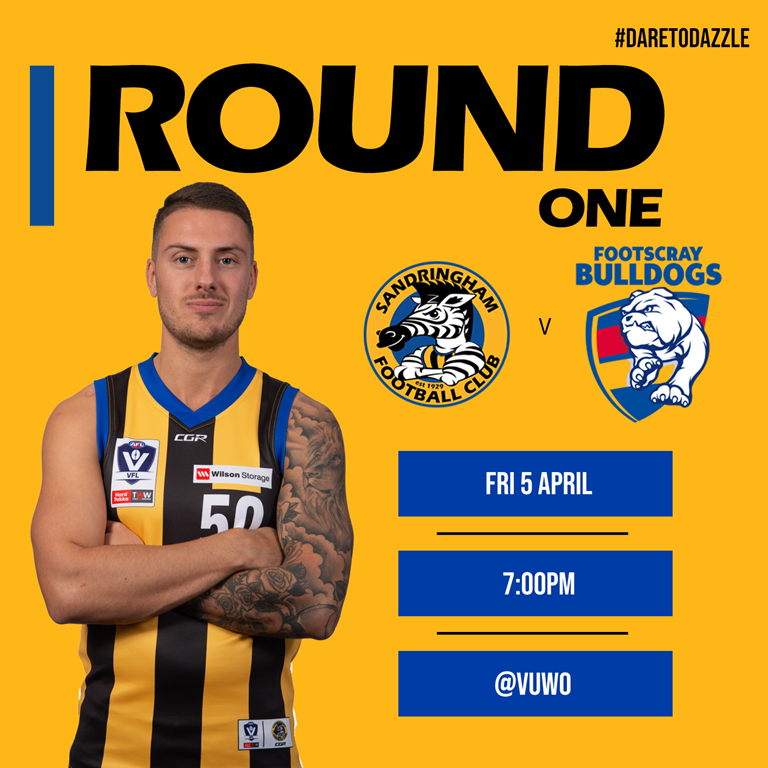 02/04/2019
Who: Sandringham Zebras v Footscray Bulldogs.
When: Friday 5 April, 7:00pm.
Where: VU Whitten Oval, Footscray.

It's Round 1 and we're the first match of the 2019 VFL season, so come on down and support our Zebras! We'll be underway on Friday night at 7:00pm, so ensure you get there early to not miss any of the action.

From 5:00pm, you're invited to join Sandringham board members, staff and fans as we meet for a few drinks at The Plough Hotel (333 Barkley St, Footscray) before collectively walking to the game to show our united Zebras pride.

There is limited parking at the ground so public transport is the best option with West Footscray Station the easiest and closest option to the venue. Alternatively, there is parking spaces at the train station and in surrounding streets that hold no restrictions.

Social Media and Broadcast:
If you can't make it, we'll have live updates on our Facebook, Instagram and Twitter throughout the game.
The game will also be broadcasted live by Casey Radio 97.7FM.

Tickets to the game are $10 for adults, $5 for concession and kids under 15 can attend free! If you're a Sandringham member, all tickets are $5 and if not, there's still time to sign up for 2019!

Let's start the season with a wave of support against Footscray as we aim to come away with a win and start the year off positively!
GO ZEBS!