North bury the Zebras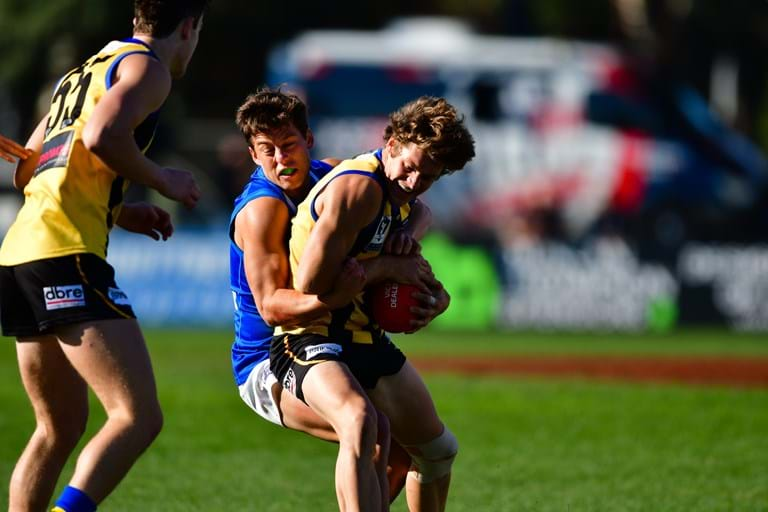 05/06/2018
SANDRINGHAM 2.1 4.8 6.12 9.14 (68)
WERRIBEE 4.3 10.4 14.10 19.11 (125)
GOALS
Haidon 3, Smith 2, Lamb, Battle, Armitage, Connellan.
DISPOSALS
Coffield 31, Seccull 30, Armitage 28, Lamb 24, Answerth 23.
Sandringham have suffered another loss this week, going down to North Melbourne by 57 points at Trevor Barker Beach Oval. It was a tough contest everywhere but the scoreboard, with Sandringham's efficiency being the main thing to let them down.
A slow start from Sandringham really cost them, after North Melbourne got the first four goals. However, the Sandringham boys really made them work for their goals by applying pressure all over the ground. Despite a messy first quarter, North Melbourne were able to score where Sandringham couldn't. Our defence worked hard around the ball, but the Kangaroos were just better at getting it out of our forward line.
North Melbourne's work around the stoppages was a cut above the rest, with Braydon Preuss being unstoppable at the ruck contest despite tough efforts from Hayden McLean and a number of others. They had numbers around the ball all over the ground and in the first quarter a number of silly errors proved costly for the Zebras.
Second gamer Jackson Hille gave an outstanding performance, applying some really good defence in the first half and racking up 12 disposals overall. The backline was tested all day, and unfortunately despite some really good individual efforts were unable to stop North Melbourne from scoring.
Aaron Hamill was positive at half time, adamant that his side was still in the game and just needed to make the most of every opportunity. But, the Zebras made some more errors in the second half which proved costly as they failed to execute their switching.
Despite a 47-point deficit in the third quarter, they never put their heads down and continued to fight hard. But in the final quarter, they struggled to continue their fight. After a game high 70-point margin late in the fourth, the game finally seemed out of reach for the Zebras to make any further dint.
North Melbourne were simply better, lapses in play cost the Zebras as North Melbourne just continued to play hard and were on it all day. Sandringham struggled to move the ball quickly out of their back half, but this was an area that North Melbourne had no issues with.
An injury scare to Tom Lamb in the second quarter proved to be a non-issue as he collected 24 total disposals and kicked a goal. He also took 10 marks and stood out as an essential part of Sandringham's ball movement down the ground, managing to get the ball on his boot and get it moving out of congestion.
Nick Coffield was the leading disposal getter for the Zebras with 31 touches and five tackles adding to the pressure the Zebras were applying all day despite the end result.