Help us reach 1000 members in 2019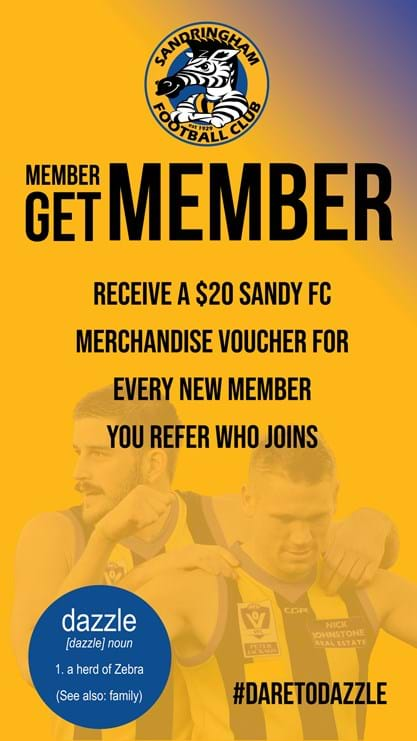 22/05/2019
Help us reach 1000 members in 2019!

2019 marks the 90th year of the Sandringham Football Club and we are looking for as many people to join the dazzle.

At the end of 2018, we had 544 members. We currently have just over 600. We are aiming to have 1000 members by the end of the season and we need YOUR help!

We have updated our memberships to include more value than ever before. Every adult member receives:
Free entry to all home games
A complimentary drink at every home game
Discounts off merchandise
$250 credit for your next function at Sandy by the Bay
Full access to ZEBRA'S REWARDS program
...PLUS more

We'd like you to sign up as many family and friends as possible to become Sandringham members. The more zebra in the dazzle, the stronger the dazzle is.

For every new adult member you sign up, as an existing member, you will receive a $20 merchandise voucher.

Signing up is easy! Your friends and family can do this here or by downloading our membership application form. All they need to do is put your name in the referral box.

You can also forward them this link: https://www.sandringhamfc.com.au/membership/membership-2019
Terms and Conditions:
Offer commences 16/05/19. Any memberships purchased before this date will not be eligible. You (referrer) must be a current 2019 Sandringham FC adult member. New members (referee's) must be adult members . Your name must be written in the referral box on the application form to be eligible. Only 1 referrer per referee can be nominated. $20 merchandise voucher per referee will be sent to referrer within 4 weeks of referee payment being confirmed.