Nathan Wright signs with Zebs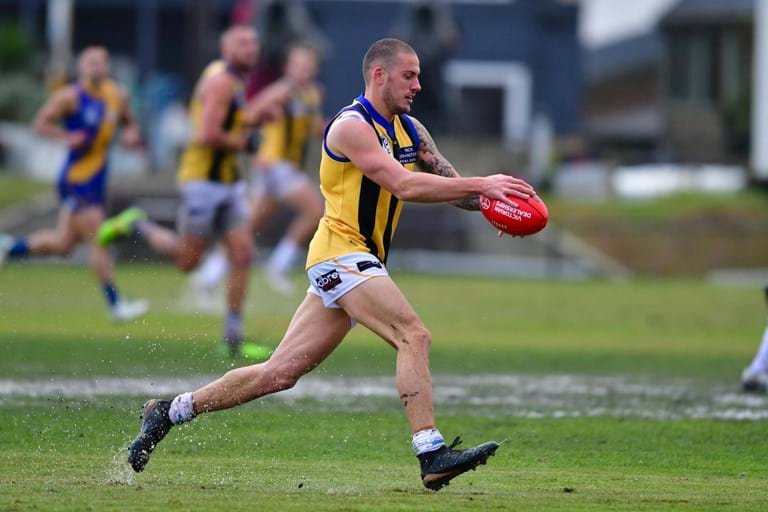 1/11/2018
Sandringham Football Club is thrilled to announce the signing of former St Kilda player, Nathan Wright for season 2019.
Drafted to the Saints in the 2012 National Draft at pick No. 24, Wright has spent some time with the Zebras already in his time, including 8 matches in 2018.
The versatile small forward speaks highly of the club, in particular Senior Coach Aaron Hamill, describing the decision to join the Zebras for 2019 as a "no brainer".
"I've always had a pretty good relationship with Aaron Hamill, and so knowing that he was going to be coaching again in 2019 made it a pretty easy decision", Wright said.
"I've spent a fair bit of time at the club, and all the people – the players, the volunteers, the coaching and support staff – are all really great people."
Bringing some AFL experience and professionalism to the club, is something that all the players will benefit from. The duty of which, is not something that phases the 24-year-old, as he looks to welcome the opportunity.
"I think I can bring a lot, having spent 6 years in the AFL I think I can help the younger boys grow and learn. It's a really young group and a lot of those boys have potential to play at the highest level."
"I pride myself on working hard, and I think I can really guide some of the younger guys to reach that potential."
Wright made particular mention of Sandringham fan favourite Jonathan Haidon, who early last month, signed on for next season.
"Jono Haidon is someone I think I can work with and give advice to. He's a hard worker and a small forward like myself so I think I can be of some help there, and we'll work well together."
Sandringham Football Club chief executive David Cannizzo speaks highly of Wright, and is excited to see the positive influence he has on the group going into next season.
"Sandringham are ecstatic about securing Nathan to our club. He is a quality person and has fantastic AFL experience that will be a major boost for the entire group in 2019", Cannizzo said.
The Zebras squad for the 2019 season is starting to really take shape, and the whole club is eager to welcome Nathan to Trevor Barker Beach Oval.