Saints Continue Finals March
---
20/06/2022
The Southern Saints have continued their march deeper into finals with an impressive victory over Hawthorn.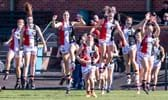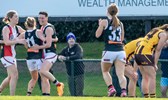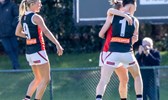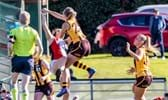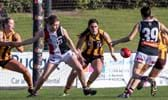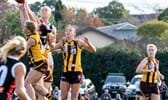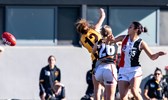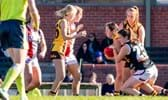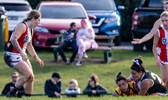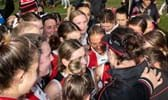 Photography by Anthony Vella
---
In a high scoring semi-final contest we managed to hold on and finish as 16-point winners to take us one step further than last year.
Hannah Stuart once more was the start of the show in midfield, finishing with a game-high 29 disposals, eight tackles, seven marks, four clearances plus a goal.
Captain Deanna Jolliffe led from the back again in her best performance of 2022, finishing with 22 disposals plus game-highs in kicks (19) and marks (eight).
Winnie Laing had an impressive game, linking up the backs and forwards well whilst finishing with 19 disposals. Tayla Kearns also had a field day up forward with three goals from 13 disposals.
On a picture perfect day for footy in front of a bumper crowd at Box Hill City Oval on Sunday afternoon, we were kicking towards the cricket nets end of the ground in the first.
And it was us that was on top early on, with Chanelle Slater snapping truly to give us the first goal inside the first three minutes. It was a fairly even few minutes following that goal, with both teams gaining territory.
But after the Hawks had some territory we quickly moved it from defence to attack, with Tayla Kearns running into an open goal and banging home our second 13 and a half minutes in.
They clicked into gear immediately after that, responding one minute after Kearns goals before getting on top in the midfield and in territory. And with just over a minute remaining they then kicked their second to tie things up heading into the first break.
And it was a similar story to start the second term, only this time it was another transition play that ended in a goal, with Slater dribbling the ball near the goal square to give Kearns her second goal two minutes into the quarter.
We continued to stay on top after that goal for the next few minutes before Kayla Ripari slotted a set shot at the five minute mark to extend our advantage to two straight kicks.
Once more though the Hawks immediately responded a minute later with their first goal of the term before we started to get back on top following it until the 14 minute mark.
They though started to get back on in the final couple of minutes before Ripari kicked her second of the term with just over a minute remaining to give us a 14-point lead heading into the main break.
The start of the third saw them start like a house on fire, kicking the first two goals inside the first two minutes to cut our half-time lead to only two points.
Four and a half minutes later they then took the lead before Gaby De Angelis snapped her first goal two minutes later to give us back the lead. It started to even out following that goal before we started to slowly get back on top.
At the fifteen minute mark Stuart then danced her way through a pack at the top of the goal square, slotting the goal to give us an eight point lead.
Two and a half minutes later Tayla Kearns got in behind once more, this time at a shorter distance, thumping home her third to give us a then game-high 15 point lead.
And with the Hawks missing a chance after the siren the stage was set for an enthralling fourth quarter as we took a 14-point lead heading into the final break.
The last was much more of a scrappy affair, which started off with us on top in territory and on the inside.
Before long though Hawthorn started to press hard as they tried to create chances to get back the lead. But once more as it had last weekend and all year long our defence stood their ground and didn't concede a single score.
The last five minutes saw us with the majority of the ball in our hands and in our attacking half. And as the siren sounded across Box Hill City Oval it signalled a famous victory for us and booked our spot in the Preliminary Final against Casey next Sunday.
Final Score: Southern Saints 8.7 (55) defeated Hawthorn 6.3 (39)
Goals: T. Kearns (3), K. Ripari, G. De Angelis, C. Slater, H. Stuart
Best: H. Stuart, T. Kearns, D. Jolliffe, W. Laing, R. Neaves, I. Gentile
---
Written by Joshua Ward - Sandringham Football Club Media