Top-spot Saints prove too good for Blues
---
05/06/2023
The Saints were able to blow the Blues away in fighting spirit to go four wins in a row.
---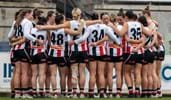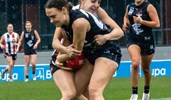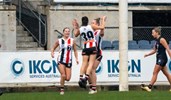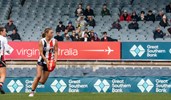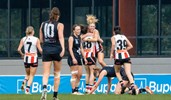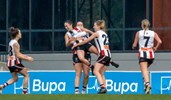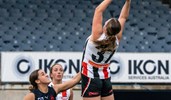 Photography: Anthony Vella
The Southern Saints have come away with a one-goal win over Carlton to place themselves on top of the Rebel VFLW Ladder after Round 11.
Getting the job done for the Saints in her 50th game, Gaby De Angelis was dangerous around goal, kicking three to cement the win. Abbey Tregellis, Nicki Cormack and Charlotte Ryan joined her on the scoreboard and managed to kick one each. Michelle Podnecky led the way gathering 16 disposals, while Rebecca Neaves' defensive pressure was immense, laying 11 tackles. Co-Captain Ali Hynes' ruck work shone as she managed to pinch 38 hit-outs.
Quarter One
As the rain started to fall at IKON Park, the girls tried to keep their feet in slippery conditions. With many ground balls, our Saints worked hard to keep possession of the football. Strong forward Lucy Burke won a free kick in the centre square, where she saw a target in Co-Captain Tayla Kearns, who marked uncontested in the forward 50. Cormack was running in 25 metres in front of goal when Kearns spotted her, and she marked and converted into the Saints' first of the afternoon.
After the centre bounce, the Saints worked hard to win the football, with Madi Capsalis smothering what looked to be a dangerous ball down Carlton's way. Her second efforts after her smother were just as good, kicking a long ball off the ground towards Kearns and De Angelis. After a chase and some smarts from the ever-so-dangerous De Angelis, the ball was kicked towards the goal square off the ground and, with a lucky bounce, De Angelis had kicked her first of the day.
Carlton was kept to one point, giving us an 11-point lead.
Quarter Two
Coming out strong, Carlton answered back fast, kicking their first major of the day.
The Saints were working hard all quarter to regain possession, and after getting some reward for effort in our forward half, Sophie Phillips saw Ryan on the run in front of goal and handed off to her as she kicked through.
Capsalis was vital in our midfield, winning a clearance and providing one-percenters where she could. Burke was good at ground level, picking up and kicking to a contest in the goal square, where again, De Angelis just knew where the goals were, snapping one through for another major.
Our backline proved strong in an attempt to hold the Blues off, but unfortunately, they were able to kick a late goal and close in on our lead.
Quarter Three
Looking to come out firing in the second half, the Saints' pressure was up, holding every tackle we could to hold up the looming Blues, but they managed to get out of our defensive hold and with their spirits and confidence up, they converted their third.
Working hard to cut the Blues' flow, we stood up and got the game back in our hands as Tregellis got a free for a hold, she capitalised and followed through.
Neaves was everywhere to support her fellow Saints, contributing pressure acts and getting behind the ball to help in contests when she could.
Quarter Four
Carlton came out looking to break down the Saints' defence early, with them locking the ball into their half for the majority of the quarter. They were able to convert, continuing to break down our lead.
After the next ball up, a mistake from Carlton saw the ball land in our goal square, where Tregellis kicked for goal, but having two defenders on her, it wasn't looking to go in until De Angelis ran to the line and kicked it over securing the major.
The Blues managed to kick one more for the afternoon, but the Southern Saints' defence proved too much for them, and we held on for our fourth win in a row and shot to the top of the ladder.
Final Score: Southern Saints 6.2 (38) defeated Carlton 5.2 (32)
Goals: G De Angelis (3), A. Tregellis (1), N Cormack (1), C Ryan (1).
---
Written by Darcy Allen - Sandringham FC Media