Saints win hard-fought contest
---
02/05/2022
The Southern Saints have held on to win a hard-fought matchup with Williamstown at Wilson Storage Trevor Barker Beach Oval.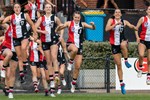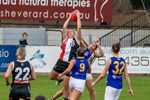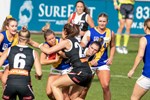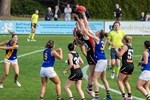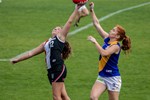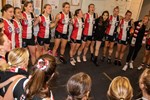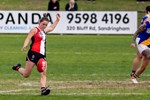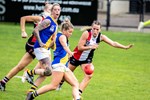 Photography by Anthony Vella
---
Coming off a strong performance the previous weekend against Darebin, a 3.3.21-2.012 final quarter scoreline was a point of difference as we won by 16 points.
Hannah Stuart's stellar 2022 in midfield continued, collecting game-highs in disposals (24), & clearances (4, equal game-high) plus 15 kicks and 10 tackles.
Nicki Cormack also provided plenty of pressure and smarts in midfield, getting 13 disposals and six tackles.
Gabriella De Angelis also provided plenty of pressure and class up forward, acquiring 13 disposals and applying nine tackles.
AFLW-listed players Alana Woodward and Caitlin Greiser also played key roles. Woodward had a game-high 12 tackles whilst Greiser had 19 disposals, 18 kicks, 10 marks and three goals by full-time.
In the first of our double-header at Wilson Storage Trevor Barker Beach Oval, it was us who gained more territory in the first five minutes. But despite the territory we struggled to create any big chances.
Following that it started to even out and become a scrappy affair in the middle of the term, with both teams bringing plenty of pressure. Both us and Williamstown had chances however neither managed to kick that elusive first goal.
The last five minutes of the term saw the ball locked in our attacking half. However it was a similar story to the start of the term as we took a three point lead (4-1) into the first break.
We were on the back foot at the start of the second, with Williamstown kicking the first goal of the match three minutes into the term.
Immediately after that goal we started to press, with Pia Staltari taking an intercept mark inside 50 and converting the set shot to give us back the lead 6 minutes into the term.
The ball was then locked in our attacking half. Despite some resilience from them we managed to get our second goal courtesy of a Lucy Burke snap under pressure in the goal square that gave us a nine point lead.
Williamstown once more gained control, but our defence stood tall and conceded only one behind to give us an eight-point lead at the main break.
The third term saw the ball once more in Williamstown's forward line. Our defence once more held strong to concede only one behind early on.
We then quickly moved the footy into our attacking half and started to lock it in ourselves. But the stingy Seagulls defence stood firm and gave us minimal chances.
It became more even in the middle of the term before they kicked the first goal to cut the margin to two points 16 minutes into the second half. We responded quickly through Kayla Ripari, who crumbed it near the goal square and slotted it on her left foot.
Williamstown had a late chance to cut the margin down once more but we stood firm and conceded only one behind to take a seven point lead into the final break.
We pressed hard to begin the fourth quarter, with Greiser snapping truly three minutes into it for her first goal of the match. Immediately afterwards though they responded to cut the margin to single digits again.
After an even couple of minutes we quickly moved it from defence to attack, with Greiser taking a strong pack mark at the end of that move. She slotted the set shot to settle our nerves and extend the margin to double digits.
We slowly started to get the game on our terms, with Nicki Cormack setting up Greiser again inside 50. She kicked her third goal of the term to give us a game-high 21 point lead.
They kicked a consolation goal in the last minute, with the siren blowing immediately after that to give us a 16-point win and to get us one step closer to a guaranteed place in the finals.
Final Score: Southern Saints 6.8.44 defeated Williamstown 4.4.28
Goals: C. Greiser (3), L. Burke, K. Ripari, P. Stalatari
Best: H. Stuart, R. Neaves, M. Capsalis, C. Greiser, A. Hynes, S. Black
---
Written by Joshua Ward - Sandringham FC Media