---
25/07/2022
Sandringham has been dealt a big blow to their finals chances, going down to Port Melbourne at home.
---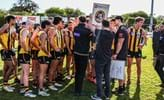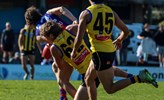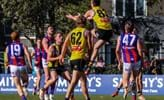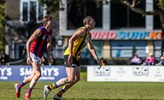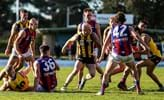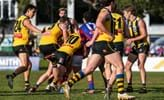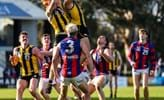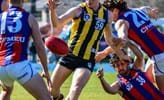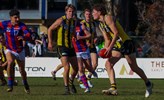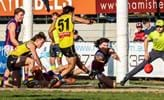 In our penultimate home game of the season, the Borough ran away with the game in the final term to hand us a 51-point defeat.
Despite the loss, Tyson Milne had one of his best games in Sandringham colours, intercepting and rebounding well and collecting 25 disposals, 19 kicks, nine marks plus his first Zebras goal.
Ollie Lowe continued to build on his great run of form in recent weeks, providing a handy target in a slightly smaller forward line and finishing with two goals, 10 disposals & six marks.
In the absence of Tom Campbell and Max Heath, Chris Carey also fought hard in ruck and had 35 hitouts, 14 disposals plus five marks.
Amongst the AFL listed players Tom Highmore had another strong game with 29 disposals, 23 kicks & 10 marks. Dan Hannebery had a great second game on return with 25 disposals & eight clearances whilst Mitch Owens kicked two goals from 24 disposals plus seven clearances.
On a beautiful afternoon for footy at Wilson Storage Trevor Barker Beach Oval, there was a slight breeze heading towards the Sautner Goal end of the ground which we would kick with in the first.
It was us that was on top early, with Mitch Owens kicking the first goal two and a half minutes in following a brilliant snap near the goal square. Just over two minutes later Tyson Milne did one better and snapped his only goal from about fifty metres out.
Momentum started to switch both ways following that Milne goal, with the Borough having majority of it for the five minutes after the goal before we slowly got back on top up to the 15 minute mark.
It became an arm wrestle for control once more before Lowe took a mark inside 50 and received a 50 metre penalty to slot his first and extend our advantage to 20 points a minute before time on. However they started to get back on top and got their first goal three and a half minutes into time on.
We got on top following their first goal before they kicked the next one five minutes later. We pushed hard late on to extend our advantage once more, but as the siren sounded we headed into the break up by seven points.
To start the second it was Port Melbourne who got on top early, kicking the first two goals inside the first five minutes to take the lead.
Two minutes later we then responded through Mitch Owens' second, this time a long distance set shot. At the 11 minute mark Lowe then kicked his second from the goal square to restore our quarter time advantage.
The next few minutes were an arm wrestle yet again with momentum consistently swinging and changing as we looked to extend our lead and Port Melbourne looked to respond.
Before long though it was the Borough who started to get on top across the contest and in the territory battle, kicking four goals between the 19 and 27 minute mark to take back the lead.
For the final four minutes of the term we made another late push to bounce back, however we headed into half time down by 16 points.
Once more the momentum was with us to begin the third quarter, with Dean Kent slotting a tough set shot after a terrific tackle to give us the first of the half one and a half minutes in.
Just over two minutes later debutant Joe Nowell then snapped through his first goal in Zebras colours to cut the margin to single digits and get us right back into the contest.
It became slightly even for the next five minutes following that opening outburst from us before the away side got on top and kicked the next 11 minutes in.
We then responded through Blake Watson who slotted a set shot from long distance three minutes later to give us the lead before Port Melbourne responded a minute and a half later.
As they continued to get on top and gain some territory they kicked the next two goals right on the cusp and four minutes into time-on. However at the 26 minute mark Darby Hipwell reacted quickly to a loose ball in the goal square to kick his first and cut the margin to three goals.
This time it was an arm wrestle to end the quarter as we headed into the final break with a little bit of confidence and down by 17 points.
It was another goal inside the first two minutes to kick things off in the last, this time for the away side as they extended their advantage.
After that goal though we looked to get a quick response as we started to get back on top before Dean Kent snapped through his second to cut the margin to 16 points eight minutes into the term.
It became an arm wrestle once more following that goal before, between the 11 and 22 minute mark, it was all the away side, kicking four goals in that period to rush out to a 41 point lead.
Whilst we looked to add a little bit of respectability for the five minutes after that goal, Port Melbourne kicked the next two goals, with one after the siren which signalled one of our roughest losses of the year.
Final Score: Sandringham 10.12.72 defeated by Port Melbourne 19.9.123
Goals: D. Kent (2), O. Lowe (2), M. Owens (2), D. Hipwell, T. Milne, J. Nowell, B. Watson
Best: M. Owens, T. Highmore, C. Carey, M. Riordan
---
Written by Joshua Ward - Sandringham FC Media