Zebras go down in opening stanza
---
28/03/2022
It was a rough loss for Sandringham to kick off their 2022 VFL campaign down at Casey Fields
---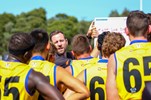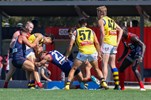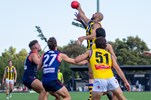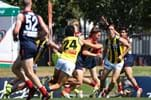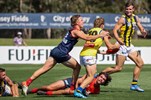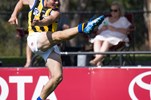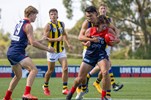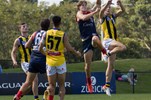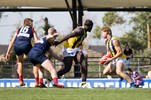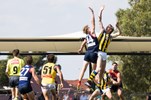 Up against a strong Casey side, we fought hard until the final siren but were blown away by the Demons, losing by 83 points.
Ex-GWV Rebels midfielder Nick Hodgson performed admirably in his first game at VFL level as the 23rd player, collecting 17 disposals, five clearances, five tackles plus three marks.
In his first game as Captain on his 22nd birthday, Anthony Seaton grew into the game off half back, collecting 16 disposals, 11 of which kicks, seven marks plus two clearances.
Vice-Captain Goy Lok continuously worked hard across half forward and in the midfield. Despite finishing with 12 disposals he still had five marks, five tackles and a clearance.
Among the best of the AFL-listed players was Marcus Windhager with 23 disposals and five clearances, Leo Connolly with 20 disposals, 15 kicks & five marks, Mitch Owens with 20 disposals, nine tackles and five clearances and Paddy Ryder with 26 hitouts, 11 disposals, six marks and a goal.
On a beautiful & warm day at an unusually calm Casey Fields, and following on from the VFLW game, ex-Saints Captain Jarryn Geary launched a 50 metre bomb inside the first minute to give us an early advantage. After a tough few minutes though the Demons responded to square things up.
Seven minutes into the match Jake Lohmann got a free near the goal square, converting and getting the lead back out to one goal, with the Demons once more immediately responding under two minutes later.
They then managed to kick another at the 13 minute mark, with the Zebras missing a few tough chances after that to hit the front. Casey then got another just beyond the halfway mark to extend their lead.
We pressed hard late on to get one more, with Paddy Ryder missing out on a goal right on the buzzer as we were down by 11 points at the first break.
The second quarter started in similar fashion, with Dean Kent kicking the first goal of the term, this time inside the first 40 seconds, to cut the margin back down to single digits.
For the rest of the quarter though it was all Casey, with their forwards chewing up mark's inside 50 like there was no tomorrow.
They kicked four consecutive goals between the fourth and fifteen minute mark of the quarter before Chris Carey converted his first and got it back to 26 points just before the 20 minute mark.
The Demons then went on and kicked three consecutive goals in three minutes to extend the margin to 44 points. Paddy Ryder put an end to that run with a late goal as we were down by 38 points heading into the main break.
The second half started in very even fashion as we missed a couple more chances to kick the first goal of the term once more. 11 minutes into it though Casey got the first to gain a seven goal lead.
Despite the game starting to become a bit more even, they then got their second three minutes after their first and their third just before the 20 minute mark to lead by a game-high 55 points.
After a Jack McHale goal a few minutes into time on, they got two late goals as we headed into the final break with a 61 point deficit on our hands.
Once more we kicked the first goal of the final term, this time through Cody Henness. Casey then responded to get their 61-point advantage back.
The game was once again back on even terms after those goals before they kicked two goals in two minutes to lead by 74 points. Josiah Kyle then kicked his first, our second of the quarter and what would be our final goal of the match 18 minutes into it.
The Demons then got two more goals right before time on and right after time on began as they ran home victors on their home deck.
Final Score: Sandringham 8.9.57 defeated by Casey Demons 21.13.139
Goals: Chris Carey, Jarryn Geary, Cody Henness, Dean Kent, Josiah Kyle, Jake Lohmann, Jack McHale, Paddy Ryder
Best: P. Ryder, L. Connolly, S. Dunnell, J. Geary, N. Hodgson
---
Written by Joshua Ward - Sandringham FC Media