Match Report v Frankston | M8 Finance Round 5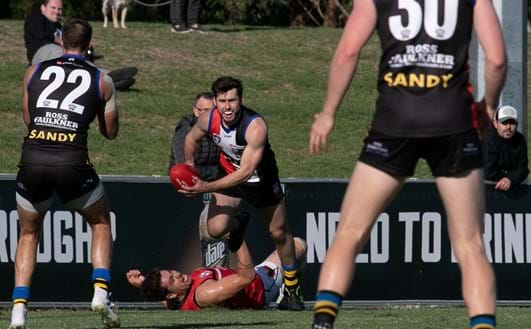 05/05/2019
Sandringham: 5.5 5.9 11.12 11.12 (78)
Frankston: 3.1 8.1 10.1 12.4 (76)

Disposals: Dunstan 32, Armitage 25, Gilbert, Hind 23, Answerth, B Seccull 21, Phillips 20, Brown 19.
Goals: Rice, Rowe 2, Armitage, Dunstan, D Seccull, Coffield, Gilbert, Owens, Wright.

Download and listen to 88.3 Southern FM's highlights from the game!Match Highlights
RSEA Park saw its first taste of VFL football on Sunday, as the Sandringham Zebras defeated the Frankston Dolphins by two points. The Zebras win followed a strong performance by the Southern Saints, who defeated Collingwood in their VFLW match earlier in the day.

Frankston opened the scoring against a strong breeze in the first quarter, before Durras Seccull kicked truly after taking a strong mark deep in the forward line.

St Kilda duo Dunstan and Armitage were prolific through the midfield, with 17 disposals, six tackles and a goal between them at quarter time while Bailey Rice was lively up forward, scoring a goal late in the quarter. Despite a ten possession first quarter from Frankston's Aloysio Ferreira, the Zebra's held a 16 point lead after a hard fought first term.

Kicking with the wind in the second term Frankston hit back with a five goals to zero, leading by ten points at half time. Billy Longer was dominant in the ruck, and although the Zebras had patches of good ball movement, they were unable to capitalise.

The Dolphins struck first after half time, but goals to Rowe, Gilbert and Rice saw the Zebras take the lead. Both sides pushed hard through the third quarter but is was Sandringham who made the most of their opportunities, taking a 17 point lead into the final quarter.

Kicking with the wind, Frankston had the majority of attacking play early in the fourth. Nathan Brown, Sam Gilbert and Jack Noone stood tall in defence, while Kade Answerth made his presence felt around the ball.

Frankston scored the first major of the term after more than twelve minutes of play and followed with another shortly after, bringing the Zebras lead to just three points. From that point onwards the Frankston forward line was locked down like a prison, and despite their best efforts the Dolphins were unable to score, leaving the crowd to collectively let out a sigh of relief as Sandringham finished two point winners.

Saints listed Luke Dunstan (32 disposals, 22 kicks, five tackles, one goal) and David Armitage (25 disposals, nine tackles, one goal) pushed their cases for senior selection, while Bailey Rice (15 disposals, six tackles, two goals) was fantastic in attack.

Kade Answerth (21 disposals, eight marks, two tackles) was influential in the final quarter and captain Brede Seccull (21 disposals, seven tackles) performed strongly.

Sam Gilbert (23 disposals, four tackles, one goal), Nathan Brown (19 disposals, four tackles, six marks) and Jack Noone (12 disposals) were instrumental in Sandringham's final quarter defence, while big man Billy Longer (six disposals, six tackles, 52 hitouts) was dominant in the ruck, supported well by Sam Rowe (12 disposals, two goals, 14 hitouts).

The Zebras will be looking to win a third consecutive match next Sunday, when they take on Collingwood at Victoria Park.