Match Report Sandringham vs Williamstown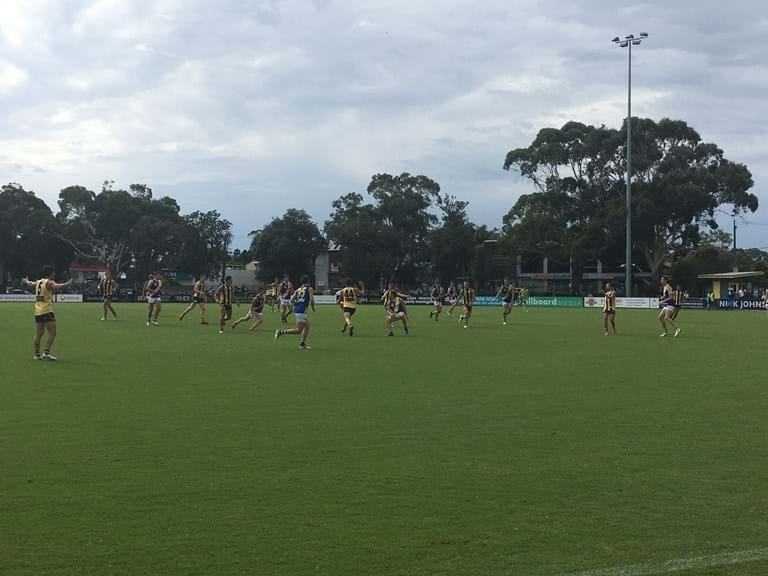 25/03/2019
Sandringham: 31 - 50 - 70 - 79
Williamstown: 7 - 29 - 48 - 57
Goals: Young 4, Wright 2, Fox, Rice, Owens, Acres, Hille, Clark.
Disposals: Acres 27, Seccull 24, Clark 23, Marshall 21, Armitage 20, Phillips 20, Paton 20.
The Sandringham Zebras showed some strong form as they approach the beginning of the VFL season, with a comfortable win over Williamstown in a practice match on Saturday.

The Zebras took hold of the match early on, leading by 24 points at quarter time thanks to two first quarter goals from Robbie Young.

Kicking with the breeze in the second quarter the Seagulls came within a goal, before unanswered goals to Young, Acres and Owens ensured the home side went into the major break with a healthy lead.

The Zebras held their lead throughout the third quarter, with strong tackling, fast ball movement and set shot accuracy the key features of their game.

Williamstown dominated the early stages of the 4th quarter but were unable to convert their opportunities, leaving the Zebras to win by 22 points.

Our St Kilda listed players were handy, with Blake Acres gathering 27 possessions, and Robbie Young kicking four goals.

But it was the Zebras new captain (Brede Seccull) that led the way, with 24 disposals and ensuring the boys maintained their composure in the last to to hold onto their three goal lead.

The Zebras will face the Essendon in a practice match this Saturday at 12.30pm, before the clubs season launch later that evening, and their round one clash with Footscray on April 5th.