Match Report Sandringham vs Essendon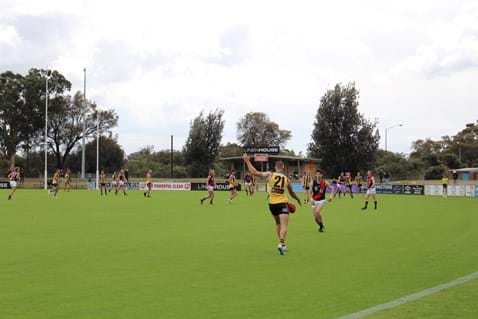 01/04/2019
Sandringham: 17 - 23 - 31 - 40
Essendon: 1 - 42 - 55 - 76

Goals: Young 2, Tahana, Pierce and Long.
Disposals: Clark 23, Langlands 20, Austin 19, Hind 17, Armitage 17.

After a bright start to Sandringham's final practice match, Essendon controlled proceedings for a comfortable win.

Wet and windy conditions made for a slow start, before Robbie Young got us on the board with the first goal of the game, a set shot from 15 metres out.

By quarter time, Sandy held a lead of 16 making use of the favourable breeze. Kai Owens kicked our other goal of the quarter.

The second quarter was a different story with Essendon taking the ascendency. Irving Mosquito was dangerous, bagging two for the quarter.
Essendon finished the quarter with the momentum and the lead, 42 to Sandringham's 23.

Thanks to an extended squad of 29, some of our senior players—notably our new skipper Brede Seccull— were rested to ensure they would be right for round one this Friday.

The fresh legs appeared to add to our tackling pressure, as Sandy came out of the break with a strong defensive intent.
Despite this Essendon were able to extend their lead to go into the final break 55 to Sandy's 31.

The last quarter saw the game start to open up, with the ball swinging end to end. However, both teams missed a number of chances in the final Stanza.

Despite Essendon adding to their lead, there were promising efforts from Clark and Tahana, with the latter adding a goal to his 13 disposals and six tackles for the game.

The final result was a 36 point victory for Essendon. Ultimately Sandringham were wasteful in front of goal kicking five goals and 10 behinds for the game.

Some notable Sandy performances included Hunter Clark who regularly found himself at the contest with 23 disposals and 12 tackles. Doultan Langlands also performed solidly with 20 disposals.

Stephen Tahana lead the way for the Sandy listed players with 13 disposals, six tackles and a goal.

This Friday we open our home and away season against Footscray at Vic Uni Western Oval. First bounce will be at 7pm.