Match Info v Seagulls | L+O Technologies Round 3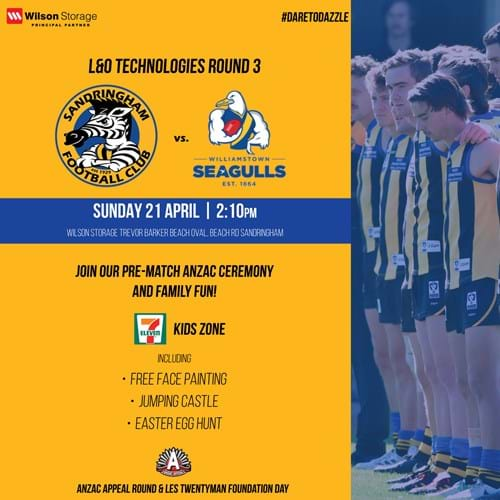 16/04/2019

Who: Sandringham Zebras v Williamstown Seagulls.
When: Sunday 21 April, 2:10pm.
Where: Wilson Storage Trevor Barker Beach Oval.

We are back at Wilson Storage Trevor Barker Beach Oval for our ANZAC Appeal game against the undefeated Seagulls. For L+O Technologies Round 3, we also host our first President's Lunch of the season, with an ANZAC themed line up.

Head Coach Aaron Hamill will be joined by Les Twentyman Foundation founder Les Twentyman AO and Hampton RSL Chaplain Graeme Disney OAM.

There will also be fun activities for the kids at our 7-Eleven Fun Zone, with face painting, a jumping castle and free large Slurpee vouchers to be given out!

NOTE: there will be replacement buses running on the Sandringham Line this weekend, so make sure you give yourself extra time to get to the game. Parking is also limited, with paid parking at the ground and free parking in nearby streets.

Social Media and Broadcast:
If you can't make the game, you can keep informed with live updates on our Instagram, Twitter and Facebook pages.
The game will also be broadcast live, via 88.3 Southern FM.

Tickets can be bought at the ground. Entry is free for Sandy members and children under 15. Adult tickets are $10, concession/pension/visiting VFL members are $5.

It's sure to be a fun and action packed day, so be there and help cheer on our Zebs!