Match Info v Collingwood | Beyond Blue Round 6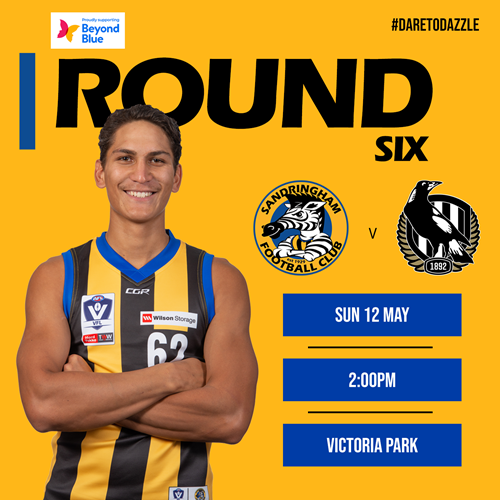 08/05/2019
Who: Sandringham Zebras v Collingwood Magpies.
When: Sunday 12 May, 2pm.
Where: Victoria Park.

After a nail biting win against Frankston, we head over to Victoria Park, this Sunday, for our Beyond Blue Round 6 clash against Collingwood.

On Sunday, all players will be wearing blue tape in support of Beyond Blue Round. Beyond Blue are committed to making mental health part of everyday conversations, because talking about mental health is a game changer. Sandringham Football Club are proud to support this cause.

Getting to the game, you can catch the train to Victoria Park Station, which is across the road from the ground. Alternatively, there are buses running along both Johnson Street and Hoddle Street. Parking is also available in surrounding side streets, or at Victoria Park Station.

Social Media & Broadcast:
If you can't make the game, be sure to follow it live through our Twitter, Facebook and Instagram pages.
To our knowledge, there will be no radio or video broadcast of the game.

Tickets are FREE! So make sure you bring your friends and family along for a great afternoon of footy.

It's shaping up to be a crucial match, as we currently sit one win outside the top eight. Get down and cheer on our boys. Go Zebs!