Match Info v Blues | Advanced Sawing & Drilling Round 8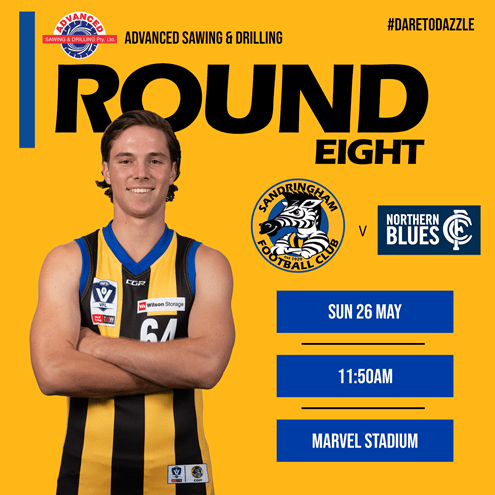 21/05/2019
Who: Sandringham Zebras v Northern Blues.
When: Sunday May 26, 11:50am.
Where: Marvel Stadium.

Sandringham will look to bounce back after last week, when we face the Northern Blues at Marvel Stadium this Sunday.

Curtain raiser footy is back as we will be on before St Kilda v Carlton so be sure to get down and enjoy a Sunday footy extravaganza!

As well as limited parking at the ground, Southern Cross Station is a short walk away from Marvel Stadium. However, double check to see if train works will effect you. Alternatively there are also trams that stop at Spencer Street, Burke Street and La Trobe Street.

Social Media Broadcast
If you can't make it to the game be sure to follow our Facebook, Twitter and Instagram for live updates.
The game will also be broadcast live on on channel 7.
If you haven't secured your ticket yet, jump onto Ticketmaster. Tickets will get you access to both Sandringham v Northern blues and St Kilda v Carlton. Sandringham membership cards will not gain you access to the ground. Sandringham members should have received an email regarding ticketing, if not contact us.
A great day of footy beckons, as we look to get back on the winners list. Go Zebs!