Sandringham sign Principal Partner for the next two years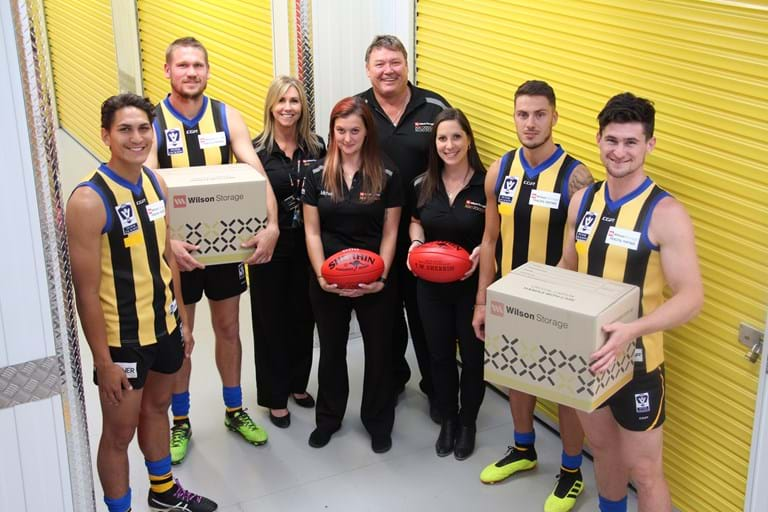 In what can be described as the biggest Sandringham Football Club partnership in the last decade, existing major sponsor Wilson Storage has increased its commitment and signed on as the club's Principal Partner for the next two years.
The Principal Partnership will see the Wilson Storage brand aligned wherever the Sandringham Football Club logo is and will activate the home ground to be named the Wilson Storage Trevor Barker Beach Oval.
Wilson Storage Chief Executive Officer Jon Larkin spoke of their motivation to become the principal partner.
"Wilson Storage is proud to support a well-respected and well-run organisation that has an aligned focus on building strong community awareness and a long-term proven commitment to youth development that, in turn, delivers a sound pathway for future leaders in both business and life," explained Mr Larkin.
"The fulfilment of this sponsorship with the Sandringham Football Club best mirrors our similar support for the local Southern Saints Netball Club. We trust that the parents and players of both clubs will benefit from our corporate commitment to give something meaningful back to the community that has supported Wilson Storage with their valued custom.
We look forward to supporting the ongoing development of the players, coaches and support staff that we believe can lead to their long-term collective and individual success."
The partnership will allow the club to improve its offering for not just its players and officials, but all members and supporters that are involved.
In what is also a major boost for club members, Wilson Storage will be providing an exclusive offer of 10% off all Wilson Storage prices.
Sandringham Football Club Chief Executive Officer David Cannizzo was ecstatic about the new partnership and what it will do for the club.
"I am extremely excited to have such a strong community focused business as our principal partner for the next two years. Wilson Storage and Sandringham Football Club both value the local community and this principal partnership allows us to bring greater value to Bayside," said Mr Cannizzo.
"We exist for more than just our core business of being a football team, we aspire to be a family environment where everyone is not only welcome but have an amazing time at the club.
This partnership will exemplify the importance of collaboration with the purpose to deliver great results."
There is no better time to join the Zebras as they continue to build for an enormous 2019. Sandy Plus Membership is discounted to $70 (from $110) until 31 December 2018, sign up now and get your 2019 membership.