Saints victorious with their third win in a row
---
09/05/2022
The Southern Saints have won their third game in a row after defeating the Western Bulldogs at Wilson Storage Trevor Barker Beach Oval.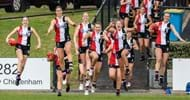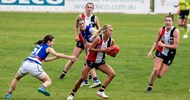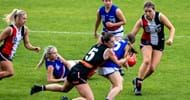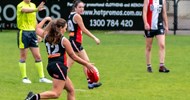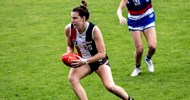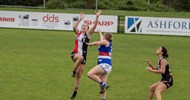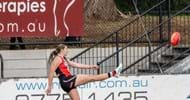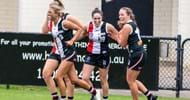 Photography by Anthony Vella
---
Coming off a 16-point victory against Williamstown, we secured our third win in a row as we defeated the Bulldogs by 18 points on our home turf at Wilson Storage Trevor Barker Beach Oval.
Hannah Stuart continued to dominate the midfield with her consistent high-disposal season, finishing the game off with an outstanding 26 disposals, consisting of 15 kicks and 11 handballs.
Gaby De Angelis provided plenty of pressure around the ground, attacking the ball and slotting 2 goals through, with a total of 20 disposals for the day.
Kayla Ripari also provided great tackling pressure, approaching each contest head-on with a notable 6 tackles.
Tayla Kearns had a dominant game, clocking up 17 disposals, 2 goals and 10 tackles. Rebecca Neaves collected 14 disposals for the match, including 9 kicks, 5 handballs and 5 tackles.
Madi Capsalis was tough in the midfield, gaining 11 disposals and 5 tackles, and Winnie Laing was a standout on the wing with 18 disposals, using her speed and athleticism to cover the ground and be first to the ball.
Our first quarter saw us applying great pressure and matching up nicely on the Bulldogs. Hannah Stuart was all class, dominating the midfield alongside Gaby De Angelis and Kayla Ripari.
Georgia McLean was a standout in the half-back, applying pressure and cleanly executing kicks to our midfield. Tayla Kearns was tough at the contest, applying tackles left, right and centre, and slotting our only goal through for the first quarter. We finished the first quarter with a slender lead 1.2 (8) to 1.0 (6).
The second quarter saw us with plenty of exciting passages of play, with De Angelis continually sending the ball into our forward 50. Lucy Burke stepped up in the forward line, providing a goal assist to Tayla Kearns.
De Angelis continued to flex her athleticism in the midfield, collecting the ball from the ground and running inside 50, snapping a goal. We conceded no points this quarter, concluding the first half 3.4 (22) to 1.0 (6).
We kicked the third term with two quick back-to-back goals from Hannah Stuart and Gaby De Angelis within the first 5 minutes. Hannah Stuart continues to prove her strength as she puts her body on the line and took a brave mark.
Pia Staltari also notably cleanly collected the ball and executed to targets around the ground. We continue our lead 5.4 (34) to 2.1 (13) as we go into the final term.
We started off the fourth quarter slow as the Bulldogs got the first goal. Gaby De Angelis continues her stellar performance with a strong overhead mark. Tayla Kearns also took big marks inside 50, setting up for Lucy Burke in the goal square. Georgia McLean boots a big torp from 50, landing it in the goal square.
Pia Staltari starts a great passage of play, passing it off to Kayla Ripari who handballs it to Hannah Stuart, who then cleanly kicks it to Lucy Burke in the forward pocket, who just misses the mark under pressure. Saints continue to apply excellent defensive pressure around the ground, as the Bulldogs turn it over to us.
Winnie Lang's speed outsmarts the Bulldogs as she blitzes past them, executing a 1-2 with Hannah Stuart. Kayla Ripari provides excellent second attempts as she applies tough tackles, resulting in the Bulldogs turning the ball over as she collects the ball from the ground and snaps it forward.
Rebecca Neaves was also all class with a clean mark outside 50, as she sets it up for Nicki Cormack in the goal square. De Angelis then kicks it to Olivia Flanagan who misses the mark, Stuart collects the ball and boots it down to our goal square but unfortunately, it doesn't make the distance.
We come away with an 18-point victory, solidifying our top 4 position ahead of finals.
Final Score: Southern Saints 5.7 (37) defeat Western Bulldogs 3.1 (19)
Goals: G. De Angelis (2), T. Kearns (2), H. Stuart
Best: T. Kearns, R. Neaves, G. De Angelis, W. Laing, K. Ripari, M. Capsalis
---
Written by Anika Giarracca - Sandringham Football Club Media