Forgetful day against the Tiges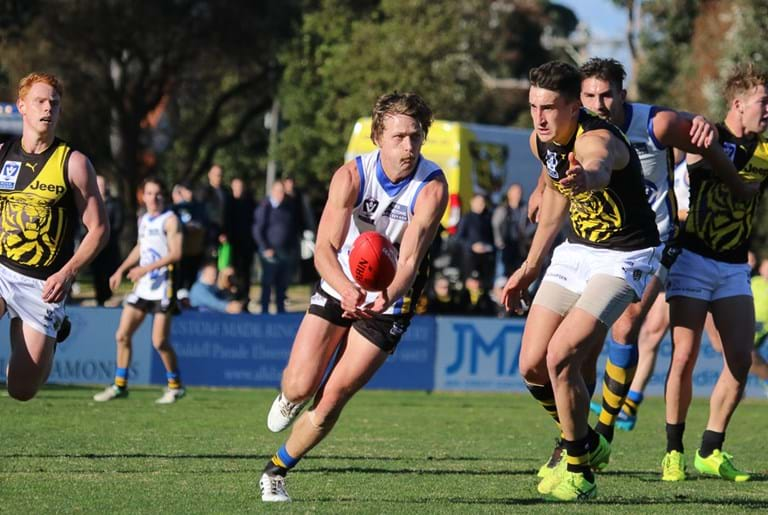 24/07/2018
SANDRINGHAM 0.0 2.2 4.5 9.13 (67)
RICHMOND 9.5 10.8 18.12 20.13 (133)
GOALS
Haidon 3, Connellan 2, Langlands, Freeman, Smith, Lamb
DISPOSALS
Acres 36, Seccull 35, Coffield 30, Freeman 29
This week's loss to Richmond was one to forget as a scoreless first quarter set the tone for the day. The boys were unable to get up for Dylan Weickhardt and Jack Noone's 50th VFL matches, but continued to fight until the very end.
Richmond were quick to get the first goal, and the second came just as fast to sweep the Zebras off of their feet. The next seven goals came before the Zebras could get their heads up and win the ball out of the middle, putting us on the back foot from the get go.
Conceding a 59-point deficit at the first break after a scoreless opening quarter, made it difficult to keep spirits up and hope alive. But the second quarter was a much better effort, as Jono Haidon kicked the first goal of the quarter to finally put us on the board.
Richmond were quick to answer back, before a ten-minute deadlock left both teams unable to score as the intensity lifted from the Zebras. Just before half time, Nathan Smith managed to kick another and Sandringham won second quarter, having kept the Tigers to just the one early goal.
However, there was still a lot of work to do, as Freeman opened the second half with a goal before Richmond answered back almost instantly, kicking the next seven goals before Jono Haidon finally put a stop to that, as he kicked his second.
Richmond kicked another three, and took a 91-point lead into the final term, showing no signs of letting up. They kicked the first goal, and looked like they would continue running over the top of us. But against the odds, the Zebras showed heart, and played with their pride at stake, kicking the next five goals and bringing the final margin to 66.
Brede Seccull was outstanding in the midfield as always, gathering 35 touches and laying ten tackles. He applied pressure to the Tigers all over the ground and really made for a difficult task, despite the end result for the Zebras side.
Blake Acres and Nick Coffield both made strong cases for a senior recall in St Kilda's AFL side, collecting 36 and 30 disposals respectively. They both provided some great talent to the midfield and were a welcome inclusion all over the field.