Disappointing result for Zebras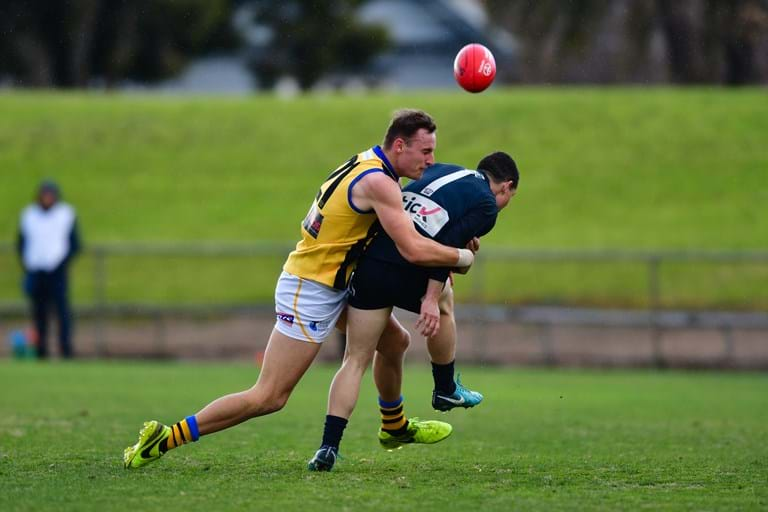 21/08/2018
NORTHERN BLUES 3.3 5.7 9.8 13.8 (86)
SANDRINGHAM 1.2 2.4 5.6 7.10 (52)
GOALS
Owens, Weller, Noone, Seccull, Connellan, Haidon, McLean
DISPOSALS
Phillips 34, Dunstan 33, Seccull 26, Weller 21, Clark 20.
A disappointing result this week for the Zebras, after struggling to get up and about against the Blues in our best chance for a win for a while. There were some great individual efforts from the likes of Ed Phillips, Luke Dunstan and as always Brede Seccull, however as a team we just really struggled to get on the board.
A quick start as Mav Weller got the first goal of the match was promising, however the first quarter was all Northern after that, as they scored three goals while we were only able to manage another 2 behinds.
They started the second quarter with another goal, before Jack Noone was finally able to gift the Zebras with our second goal, after a 50m penalty. But this still wasn't enough and the Zebras were just being beaten all over the ground, despite an impressive second quarter performance from Hayden McLean with seven touches and 2 marks before the 19 minute.
Three goals in the third was impressive from Sandringham, but the Blues were still keeping us at arm's length and fighting back every chance we got which really made it difficult. Goals from Seccull and McLean in the final term were impressive, but still weren't enough to make any difference to the final result, as the Blues continued to kick away and get the win with 34 points at the final siren.
Sandringham Match Report printed by Digital Document Solutions.