Match Info v Frankston | M8 Finance Round 5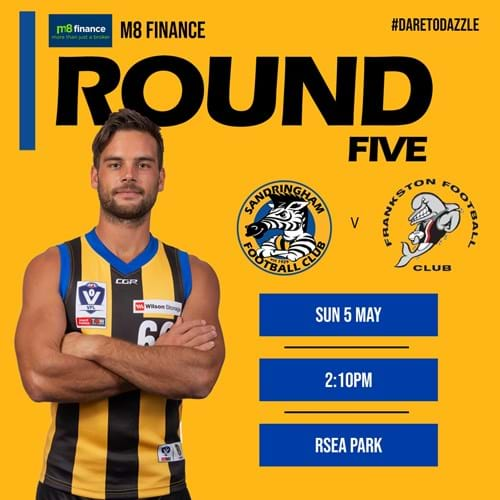 29/04/2019
Who: Sandringham Zebras v Frankston Dolphins.
When: Sunday 5 May, 2:10pm.
Where: RSEA Park.

Competitive footy is back at RSEA Park, as Sandringham takes on Frankston in our M8 Finance Round 5 clash.
Southern Saints will be the curtain raiser, kicking things off at 12pm. It will be a great opportunity to see some of St Kilda's newest AFLW recruits for the coming season, so make sure you get down early.

There is limited parking at the ground and in surrounding streets, so public transport is your best option. Moorabbin Station is the closest, being a 10 minute walk away.

Social Media and Broadcast
If you can't make the game, we'll have live updates via Facebook, Instagram and Twitter.
The game will also be broadcast on 88.3 Southern FM.

Entry is FREE for all, so you have no excuse not to get down!

Hope to see you there for a great afternoon of footy. GO ZEBS!