Bombers blast on unsteady Zebras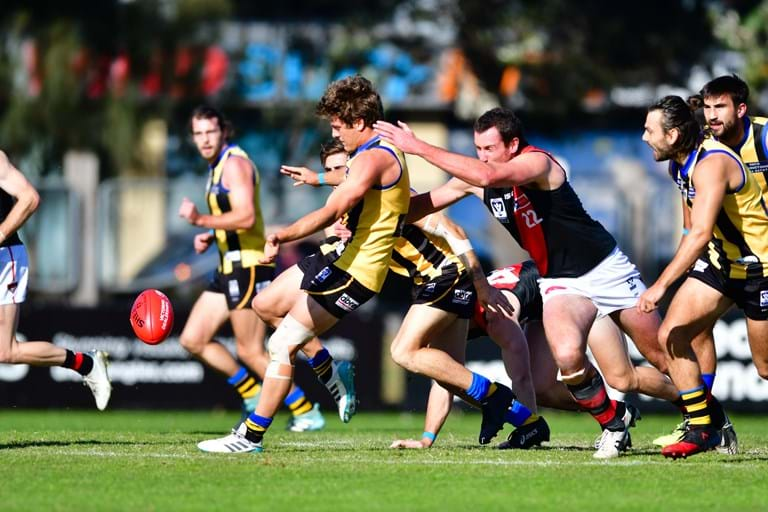 SANDRINGHAM 4.3 4.4 6.9 7.11 (53)
ESSENDON 4.4 7.10 8.13 10.14 (74)
GOALS
Battle 2, Smith 2, McLean, Matera, Connellan.
DISPOSALS
Seccull 32, Rice 30, Answerth 28, Freeman 28, Paton 22.
Sandringham have lost their third consecutive match this week, at the hands of an impressive Essendon outfit. In perfect footy conditions for Mother's Day and beyondblue round, the Zebras were unable to step up against the Bombers, and in the end, went down by 21 points.
The first quarter was tight and well contested from the first bounce, as both teams fought hard to get the ball out of the middle. In the fifth minute, Essendon were the first to convert and gave themselves a nice buffer on the scoreboard, holding a two-goal lead within the first ten minutes.
But the Zebras contested well, with Nathan Smith getting Sandringham's first goal minutes later and Josh Battle getting another to tie it up. The rest of the quarter continued to be a shoot-out with both sides finding the goals well, and the Zebras were just one point down at the first break.
It was in the second quarter that the Sandringham boys really let it go, failing to find the big sticks and only scoring one point for the quarter. Going into half time, they were faced with a 24-point deficit and would have to really dig deep from here.
In just the second minute of the third quarter, 23rd man Hayden McLean scored a goal to start off the second half, just moments before Ray Connellan scored another to shrink the margin to just 11 points. But Essendon were quick to answer back and made the job difficult taking the lead back out to 16.
The Sandy boys failed to get the job done in the final quarter, scoring just the one goal to Essendon's two and copping a 21-point loss at the final siren.
The loss is disappointing, but senior coach Aaron Hamill says there is a lot the boys can take out of the match.
"Our contest and clearance work was very good, there were just some mistakes on the outside and our ball use made us really vulnerable from a 'team defence' point of view", Hamill noted.
Brede Seccull and Kade Answerth were both vital in the middle for the Zebras, working hard at stoppages and racking up 32 and 28 touches respectively. Their work in the midfield and moving the ball forward was really strong, but there was just a lack of conversion from Sandringham.
The Zebras will look to bounce back next week, when they take on Richmond at Holm Park at 2:10pm.
Sandringham's Match Review printed by Digital Document Solutions!