Zebras R6 2018 Info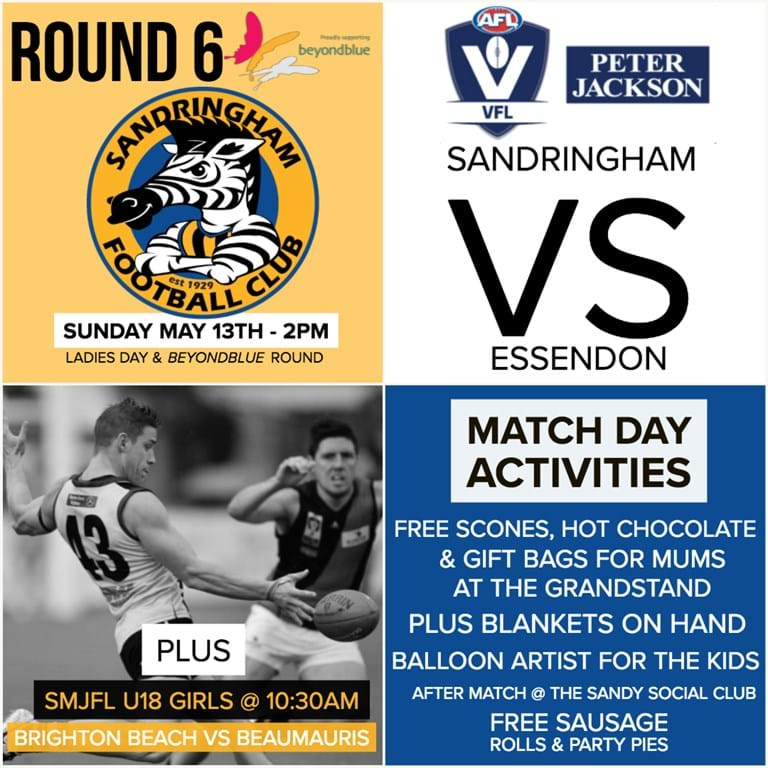 11/05/2018
Who: Sandringham vs. Essendon.
What: Round 6 Ladies & Mother's Day and beyondblue Round.
When: 2pm on Sunday, May 13th.
Where: Trevor Barker Beach Oval.
Spoil your mother this Mother's Day by bringing her to see the Zebras take on 7th placed Essendon at home!
Get there early, as we will be hosting a curtain raiser at 10:30am between SMJFL Div 1 Under 18 Girls Brighton and Beaumaris.
There will be plenty going on off the field too! With free scones, hot chocolates and gift bags for mums at the grandstand!
We will also have blankets on hold to keep you warm on what could be a cold day.
After the match, hopefully we can celebrate a win at the Sandy Social Club with you which includes free sausage rolls and party pies.
Importantly, it is beyondblue round, and in addition to raise awareness our boys will be wearing blue tape on their wrists to show our support for beyondblue as we are committed in making mental health a part of everyday conversations. Talking about mental health in our clubs and in our stands is the game changer.
Hopefully we see you there! Go Zebras!