Zebras and Lions deadlocked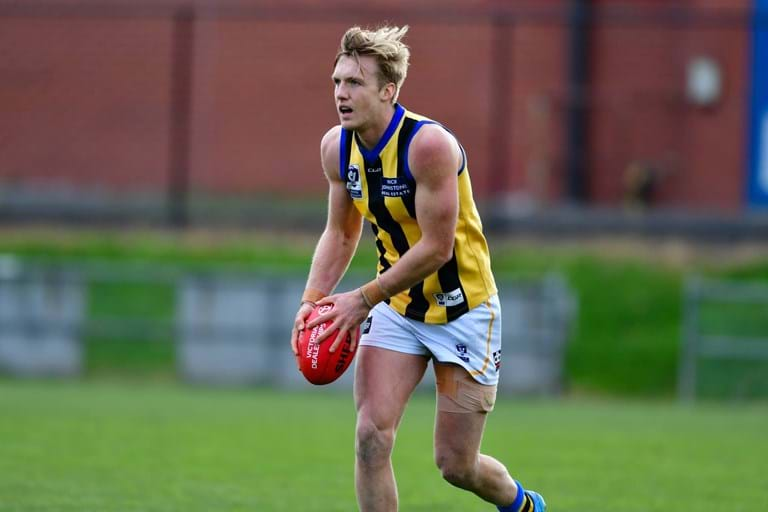 10/07/2018
COBURG 3.2 4.3 6.4 12.7 (79)
SANDRINGHAM 3.4 5.7 10.12 11.13 (79)
GOALS
Marshall 3, Connellan 2, Answerth, McLean, Haidon, Lamb, Noone, Langlands.
DISPOSALS
Acres 31, Answerth 30, Seccull 29, Hickey 27, Connellan 25, Freeman 25.
A nail-biting final few minutes on Saturday, has led the Zebras to a close finish resulting in a draw with Coburg. Despite holding a 32-point lead going into the final term, the Zebras let the Lions run over the top of them and were down by six at the siren, before St Kilda rookie Doultan Langlands was awarded a 50m penalty to find the goals and level the scores.
Sandringham started strong, with a goal from Hayden McLean in the first few minutes, followed by goals from Ray Connellan and Kade Answerth to make it three unanswered to start off the match. Coburg's first goal came in the 13thminute, before they were able to level the scores with just minutes to go in the first quarter.
The Zebras held a two-point lead at the start of the second, but the Lions were quick to take that away, kicking the first goal of the quarter to take their first lead of the day. Sandringham's first goal didn't come until late in the quarter, as Connellan and Marshall took the lead to ten points quickly.
Five goals in the third quarter got us a handy 32-point lead to take into the final term, with hard work from Tom Lamb and Rowan Marshall making for a difficult task on the Coburg backline.
But it was in the last quarter that things really went pear shaped for the Zebras. A goalless quarter meant Coburg had an opportunity to get the ball out and continue moving the ball forwards to allow them to even up the scores. And in the dying minutes of the game, Coburg were up by a goal.
However, a holding the ball call just before the siren gave the Zebras one last bit of hope, before Langlands was awarded a 50-metre penalty for a possible trainer infringement to take the kick from just 5 metres out.
As the siren went, the ball sailed through for a goal and Coburg's hopes at the first win of the year were shattered. The Zebras were lucky to get the two points this week, and would no doubt be disappointed with their last quarter effort.