Sandringham vs. Essendon Round 6 Preview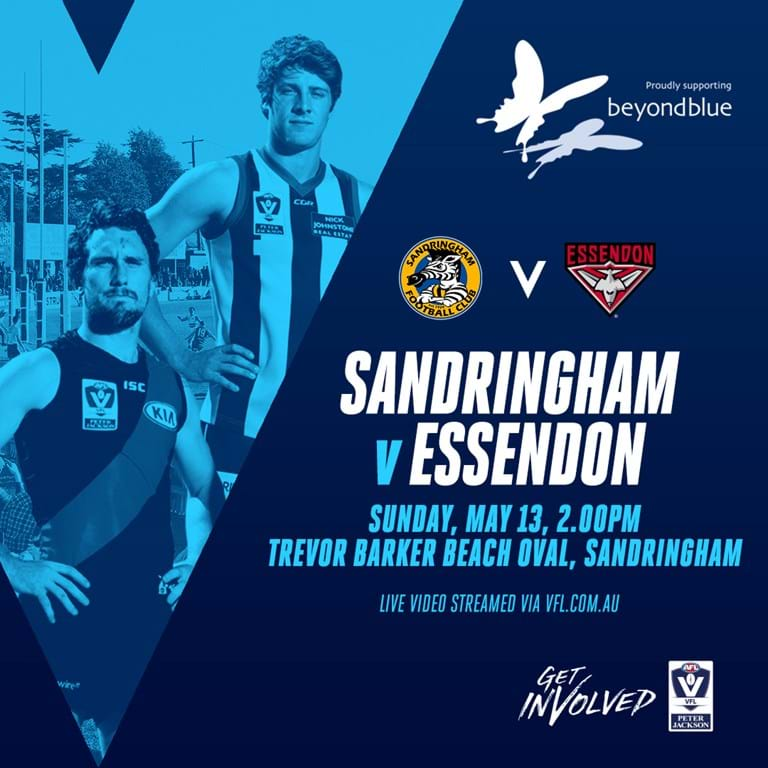 11/05/2018
Peter Jackson VFL Round 6
Sandringham Zebras vs. Essendon Bombers
Trevor Barker Beach Oval, Sandringham
2:00pm Sunday May 13, 2018
Last 5 – Sandringham: 4, Essendon: 1
Last Time They Met: Round 1, 2017 – Sandringham 11.12 (78) DEF Essendon 10.11 (71)
Sandringham will be looking to redeem themselves after a substantial loss last week, when they come up against Essendon at home this Sunday afternoon at 2pm in AFL Victoria's beyondblue round.
Essendon last week had a convincing win against North Melbourne despite a slow start. They were able to turn it up and win by 66 points in the end, which is an eerily similar margin to what the Zebras lost by last week.
For the Zebras, Brede Seccull and Dylan Weickhardt both had outstanding games for Sandringham despite the loss. Seccull worked hard in the midfield, collecting 21 disposals and 5 marks which were all uncontested as he created good space to make himself a free option. Weickhardt also worked hard, moving the ball well outside of the defensive fifty. Returning St Kilda listed midfielder Nathan Freeman had a day out of his own, gathering 28 disposals and laying 7 tackles.
For Essendon, Michael Hartley was strong in defence, laying 4 tackles and taking 5 marks to help his team get the four points. As a whole, Essendon worked well as a team, sharing the ball around very well. On the weekend, they had 13 individual goal kickers making them a dangerous side to match up against this week.
Both sides have even win-loss records sitting at two all and this match is looking to very much be a decider for both teams as to where they sit as we make our way through the season.
Sandringham need to convert at a better rate this week and capitalise on their time inside 50. Essendon on the weekend proved their capacity to score when it mattered, despite a slow start and allowing North Melbourne to get within 10 points on the weekend.
After a stellar performance last week, Ed Phillips has been named in St Kilda's squad this week and is a big out for the Zebs. However, there are some big additions for Sandringham this week too, with key defender Jack Noone and attacking midfielder Jono Haidon returning to the squad.
If you can't make it to Trevor Barker Beach Oval on the day, you can access live updates through Sandringham's Facebook, Twitter and Instagram. The game will also be live streamed on the VFL website.
IN: B Miller, J Noone, N Smith, H Mclean, J Sziller, J Haidon, B White.
OUT: M Cook, D Langlands, E Phillips.
| | | | |
| --- | --- | --- | --- |
| B | 45. L Austin | 37. H Goddard | 40. O Clavarino |
| HB | 13. J Noone | 61. D Joyce | 78. B Rice |
| C | 43. N Freeman | 2. K Answerth | 63. J Sinclair |
| HF | 62. R Connellan | 23. T Lamb | 39. J Lonie |
| F | 17. J Haidon | 36. J Battle | 11. J Matera |
| R | 69. B Longer | 50. B Paton | 79. D McKenzie |
| Int | 12. B Bailey | 68. B Miller | 5. B Seccull |
| | 27. N Smith | 15. J Sziller | 1. D Weickhardt |
| | 42. B White | 56. N Wright | |
| 23P | 6. H Mclean | | |