Ladies' Day Profile: Bec McHenry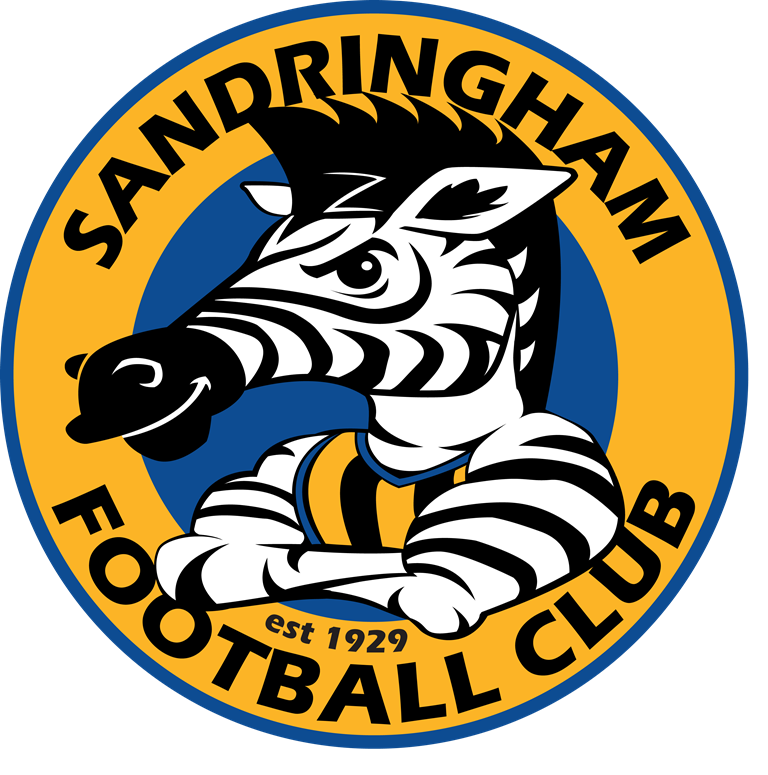 12/05/2018
Bec McHenry is the founder and CEO of The Space Agency. She is a licensed real estate agent and volunteers her time to Sandringham as a community engagement coordinator, and a match day assistant team manager. In celebration of special women this week, Sandringham would like to recognise Bec for the work she does for the club.
What is your role?
I manage the match day experience and organise activities at our home games. I also help Bruce Bowles out where I can, but he is the most organised, prepared, diligent team manager on the planet so he doesn't usually need me getting in the way!
How did you get involved with Sandringham?
I have been with the club for 2 seasons now, 2018 will be my 3rd. It all started because I was looking for a bit of light relief from my day job. I work for myself in property development which can get very intense, so I came to the club for a bit of light relief.
How would you describe Sandringham's culture?
In a word, 'zealous'. Everyone around the club is passionate about football and bring so much enthusiasm every week, it's great to be around. I also recently discovered that a group of Zebra's is called a Zeal (after questioning our #feelthezeal hashtag) so that ties in nicely too!
How did you get your start in the sport industry?
I have grown up loving sport (especially footy) so it has been a big focus for me as I've progressed in my career and looked for ways to get involved, volunteer my time and give back. We sponsor a number of community footy clubs through my business, but I was looking for a more hands on way to give back and get involved. I started out as an Ambassador for the Geelong Cats AFL team, and then decided I wanted to get more involved in the operational management side of the game so I came to Sandringham to be Team Manager of the Development Team.
What attracts you about community football?
I love the atmosphere that is generated on match days at community football matches, especially when the club is focused on engaging the broader community and throwing open the gates to everyone. That has been a great part of my role at Sandy, improving the match day experience and establishing the match day activities program. I have loved seeing people enjoy themselves, the food and have a great experience. The game of football is great, but it's the atmosphere around the ground when you watch a match that makes it all worth it and keeps me coming back for more.
Why is community engagement so important in sport?
I think football (and sport generally) is an incredible way to break down barriers – between men and women, young and old people, different cultures and nationalities… Even in my day job, I use football as a way to get to know people and build positive relationships. With that in mind, it is so important for sporting clubs to embrace this role and proactively engage with the community to help achieve inclusion, connect people and lift community spirit.
Have there been any major obstacles leading you up to this point?
Not for me personally, but I think the relationship between the AFL and the VFL has been a major obstacle for many of the clubs – mainly just because it feels to me like the VFL doesn't quite know what it is. A community focused football league with a connection to the AFL, or a professional league that is purely the reserves for AFL Clubs? The answer to this question affects the players, the staff and volunteers, and the fans, and the lack of clarity around it I think is making some decisions harder than they need to be. I think this will sort itself out over the coming years though as the AFL, AFLW and VFL all come into alignment. Good things take time.
What do you enjoy most about the job you do? What do you find difficult?
I really enjoy helping the people around the club. Dave, Bruce, Josh, the coaches and the players. I just like being useful and knowing I've made their match day a little better because I was there. Maths is not my greatest strength, so any time I have to do stats I have to seek assistance from the stats box or a calculator to make sure I don't mess anything up. 16 + 5 is more difficult than is sounds, especially under pressure of a footy game… That's what I tell myself anyway. Haha!
What's it like doing your job in such a male dominated industry, as community football? Do you think being a woman has any impact on the job you do?
I am really lucky that I naturally don't notice differences in age or gender, and I therefore naturally don't let my age or gender define me as a result. I think that's why I was able to start a business at such a young age, as a female in another male dominated industry – being property development. I do appreciate that there are situations where gender has an impact on the way you are treated, and I definitely support any efforts to balance this out, but I haven't experienced any difficulties myself. If anything, I think being different helps you stand out and shine in a good way, not a bad way. Just like on the footy field, we all play our role, man or woman.
What are the challenges for women in sport? What still needs to change?
The momentum we have witnessed over the last few years in favour of women's football is awesome – truly inspiring. From the top, the AFL has been driving the evolution of the AFLW, committing resources and funds to deliver a stand-alone league that delivers equal opportunity for men and women in the game. That has lead to a huge rise in the uptake of women's football at a grassroots level, which is also fantastic. The challenge now is to accommodate for all of this demand and momentum, and the solution is to better to equip the sporting clubs to respond and accommodate through better facilities. This is a big gap to fill though, and it will take time which will make the next few years pretty challenging. However, this is now a big focus for the AFL and many VFL Clubs, and Sandringham is working hard to get women's facilities for 2019 which is fantastic.
Who have been the most influential women in your life?
My mum definitely, and I'm not just saying that because it's Mothers Day this Sunday and I am trying to score brownie points. She is an incredible woman, runs her own business too and has been a massive inspiration for me throughout my life. She's always there for me as well, through the good times and the bad. She always reminds me to "start where you are, use what you have, do what you can" when work is overwhelming or life is getting hectic. She's very good egg.
What motivates you?
I think I am the type of person that is motivated to have an impact and get stuff done, so I am quite results driven. I also enjoy contributing and giving back - I get a lot out of helping people.