Senior Coach - Aaron Hamill
The popular former St Kilda captain and Carlton forward played 190 games between 1996 and 2006. Although he remained on the Saints list in 2007, injury prevented him from playing any games.
After stepping away from football, Hamill returned to the Saints in 2012 as a part-time forwards coach. In 2014 Hamill has stepped up to be the Saints full-time forwards coach.
Aaron Hamill joins the Zebras as the Senior Coach in 2018 whilst maintaining his role at St Kilda FC.
Assistant Coach - Ronnie Verma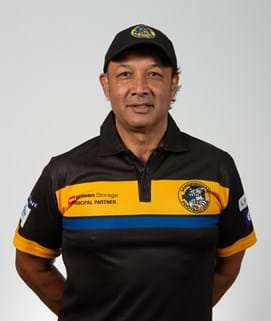 Verma is a VAFA legend, he is the games record holder (358) with Melbourne High School Old Boys and also coached the club for 7 years (1989-1995) which included 2 premierships and another 2 losing grand finals.
More recently he has coached junior teams at local club Hampton Rovers and has been involved with the Development squads in the SMJFL representative program. Ronnie has been in a Development role at Sandringham since 2014.
Head Trainer - John Newson