Sandringham Football Club announces newest inductees into the Hall of Fame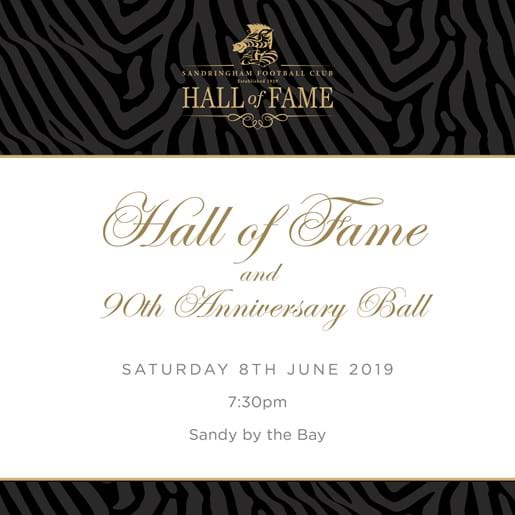 07/05/2019
Sandringham Football Club are delighted to announce that ten new individuals will be inducted into the Hall of Fame.

The Sandringham Football Club Hall of Fame was established to provide recognition to those who have given outstanding service to the club and to permanently honour those outstanding individuals, being a player or an official.

After an extensive process, the Club's Hall of Fame sub-committee reviewed all nominations and put forward their recommendations to the Board.

The board subsequently approved the nominations of six past players, one past coach and three long-serving club officials.

Perhaps the most esteemed inductee is the late premiership coach Trevor Barker. After his 230-game career with St Kilda, Barker turned his hand to coaching, joining Sandringham from 1992 to 1994.

During his tenure Barker brought Sandringham two premierships, in his first and last season's as coach. Today, our home ground is named in his honour.

Amongst the player inductees, there are a number of premiership players, best and fairest winners, JJ Liston Trophy winners and former captains.

The officials to be recognised include current Club Secretary Dennis Galimberti, past President Gerry Ryan and previous number one ticket holder and long-time sponsor, the late Ed Hattam.

The full list of inductees is below:
Dennis Galimberti
Gerard Ryan
Ed Hattam
Justin Crough
Darren Mitchelson
Joe Rugolo
Trevor Barker
Marty Lyons
Frank Rugolo
Shane Foley

The latest induction ceremony coincides with the club's 90th year of existence, adding to the significance of the occasion.

Congratulations to all the inductees and thank you for your service to Sandringham Football Club.

The Hall of Fame function will take place on Saturday June 8, at Sandy by the Bay, Wilson Storage Trevor Barker Beach Oval, Beach Road Sandringham. Tickets are available for $125 and can be purchased via the button below.